Trump Indicted-AGAIN, More CV19 Vax Murder, USA Rating Cut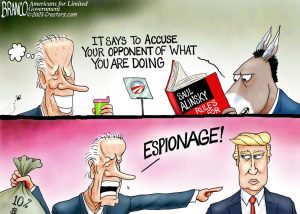 By Greg Hunter's USAWatchdog.com for (WNW 593 8.4.323)
President Donald Trump was indicted—again in Washington D.C. for what some simply say is an attack of free speech and political dissent.  President Trump said, "It was a very sad day for America."  Trump has been charged with nearly 80 felony counts in three separate cases in what many say is political persecution and election interference.  Trump lawyers say the silver lining is he will have subpoena power, and he can finally process the election fraud of 2020.  Trump finally got standing to reveal why people were protesting what he calls a stolen election.
Another week of murders and extreme disabilities from the CV19 bioweapon/vax.  This week, we feature Drexel University basketball player Terrence Butler, who was found dead in his own campus apartment.  No cause of death listed, but the university required all students and employees to be fully CV19 vaccinated up until April 12 when the university abruptly ended the policy of injecting everyone with an experimental vax that turned out to be a bioweapon.  This is yet another CV19 vax murder.
The United States of America got a credit rating downgrade from one of the big ratings services.  Fitch cut the U.S. credit rating to AA+ from AAA.  It does not seem like much, but big-time money managers and investment experts say this is "bad" and ask where is this going?  Let me try to tell you.  The federal budget is exploding with reckless spending and removal of the so-called debt ceiling, while at the same time, tax receipts recently plunged.  The 30-year mortgage just went up to 7.32%, and financial experts like Jim Rickards say expect another interest rate increase from the Fed and big inflation on the horizon.  This is Bidenomics!!
There is much more in the 57-minute newscast.
Join Greg Hunter of USAWatchdog.com as he talks about these stories in the Weekly News Wrap-Up for 8.4.23.
(To Donate to USAWatchdog.com Click Here)
(Tech Note: If you do not see the video, know it is there. Unplug your modem and plug it back in after 30 sec.  This will clear codes that may be blocking you from seeing it.  In addition, try different browsers.  Also, turn off all ad blockers if you have them. All the above is a way Big Tech tries to censor people like USAWatchdog.com.)
After the Wrap-Up:
Pierre Kory, top lung doctor, expert in treating CV19 vax injuries and author of the popular new book "The War on Ivermectin."  Dr. Kory will be the guest for the Saturday Night Post.