Bad & Good News on North Korea, Obama Wiretapped Trump, Economic Update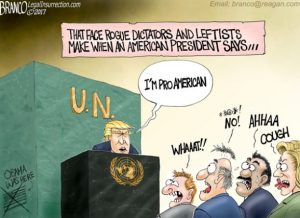 By Greg Hunter's USAWatchdog.com (WNW 302 9.22.17)
There is bad news and good news about the tensions between North Korea and the U.S. First, the bad news.  President Trump threatened to "destroy North Korea" if the country continues on its nuclear path and tests more ballistic missiles.  North Korea says they will deal with President Trump "with fire."  Now, the good news.  China has agreed to enforce stricter sanctions on North Korea (NK) through its banking system.  The U.S. has called on China to cut off North Korea from doing business with China's biggest banks.  That doesn't mean the problem is solved, but it is a huge step by China to curtail NK's missile testing by cutting down on the flow of cash going into North Korea.
Remember when President Trump said that the Obama Administration "wiretapped" him in Trump Tower? CNN called Trump a "liar" and said his accusations were "baseless."  This week, CNN, among other mainstream media outlets, had to eat their words and admit that Donald Trump and Trump Tower in New York City were, in fact, wiretapped before and after the election.  The so-called Russian collusion story falls apart a little more every day, and that is also good news.
The Federal Reserve Head Janet Yellen spoke this week and told the world that low inflation numbers were a "mystery." Gregory Mannarino of TradersChoice.net says there is no "mystery," and the Fed knows it.  Mannarino contends, "The economy is dead in the water, and the Fed cannot admit it."  That's why there is low inflation at the moment.
Join Greg Hunter as he talks about these stories and more in the Weekly News Wrap-Up.
(To donate to USAWatchdog.com Click Here)
After the Wrap-Up:
Gregory Mannarino is the founder of TradersChoice.net, and he will give us a pivotal economic update and be the guest for the "Early Sunday Release."