China Virus Overblown, Debt Driven Bailout, Crash Not Over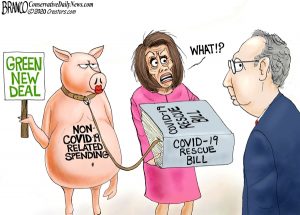 By Greg Hunter's USAWatchdog.com (WNW 424 3.27.2020)
A dozen top medical and research professionals around the world are questioning the extreme response around the globe to the so-called coronavirus. One top research microbiologist calls the China virus response "self-destructive" and "suicide based on nothing but a spook." The death numbers turned out to be a lot less than what was predicted in the beginning of the crisis, and that may be why President Trump wants to "open up the country again," possibly by Easter.
The Senate has approved a more than $2 trillion bailout package caused by the virtual shutdown from the China virus. Nearly 3 million new unemployment claims were filed in a single week. The package may be desperately needed by some, but nobody is talking about this debt driven plan and its effects on inflation, interest rates and the bond market. Fitch Ratings has threatened to cut America's AAA debt rating.
The stock market had a few good days based on the massive money printing coming out of Washington and the Fed. Does this mean it's over and a new bull market can begin? Analyst Bo Polny, who called the top of the stock market here on USAWatchdog, says no.
Join Greg Hunter of USAWatchdog.com as he talks about these stories and more in the Weekly News Wrap-Up.
(Correction: Bo Polny was on February 9th 2020 and NOT September 8th)
(To Donate to USAWatchdog.com Click Here)
After the Wrap-Up:
Analyst Bo Polny will be the guest for the Early Sunday Release. Polny talks about gold, silver, stocks, bonds and the Second Coming of Christ. (I kid you not.) Don't miss it.
(Once again: Correction: Bo Polny was on February 9th 2020 and NOT September 8th)