Climate Engineering is Planetary Omnicide – Dane Wigington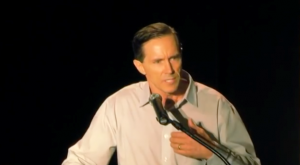 By Greg Hunter's USAWatchdog.com
Geoengineering researcher Dane Wigington says recent Senate hearings confirming the science of geoengineering means dangerous climate changes are underway.  Wigington says, "They have to control the message, and notice they always use the term 'chemtrails' because that term always leads to a dead end.  It's not a scientific term, and they want us to use that term.  You don't see them using the geoengineering, climate engineering, solar radiation management and aerosol injection term because they don't want people to understand this issue is real.  Why the Senate hearings?  Because the elephant in the room is almost impossible to hide, and they are trying to pacify populations until the last possible moment.  They want to tell the population what they want to hear–that this is only a proposal.  They are saying this must start immediately when this has been going on for 70 years . . . this is the Orwellian world we live in.  We have massive toxic aerosol, heavy metal spraying in our atmosphere that could not be more visible.  It's blotting out the sun. . . . These programs are completely out of control. . . .We are on the road to planetary omnicide. Climate engineering is the greatest and most immediate assault we face.  Climate engineering, look at this like the pharmaceutical approach to planet earth.  Hide the symptoms even if you are making the overall situation exponentially worse.  That's what they are doing.  We have had these radical whiplash weather scenarios where it goes from 80 to 90 degrees to snow in a day or two.  This weather whiplash is not natural in any way, shape or form." 
Wigington contends that the situation is much worse than anyone thinks, and it's mainly because of climate engineering. Wigington explains, "Our situation is far, far more dire and immediate than anyone comprehends, and climate engineering is making it worse not better.  Official statistics say 20 million people could starve in the coming months, and that number will increase radically and exponentially.  The biosystems of the planet are imploding."
A legal team working on behalf of GeoEngineeringWatch.org is suing to get NOAA (National Oceanic and Atmosphere Administration) to give up its climate engineering information and has hit a brick wall. Wigington contends, "There is no hiding from what's coming. . . . NOAA is not returning our FOIA's, Freedom of Information Act
requests. They are legally required to give those to our attorneys, and they are not doing that.  In fact, NOAA, in essence, flipped us the middle finger by sending back FOIA's saying they know nothing about any sort of weather modification anywhere ever.  Think how absurd this is when there are 300 regional weather modification programs that NOAA is required to sign off on every single year.  They are denying all of it.  This is the biggest cover-up in human history, with the largest most extensive operation in history, with the cooperation of governments around the globe.  That is not speculation.  You have to look and understand the gravity of the situation that is unfolding.  Countries around the globe, whatever you are focused on, if it's not saving the life support systems of the planet, everything else amounts to arranging deck chairs on the Titanic. . . . This is the single most destructive endeavor ever launched by the human race.  Mathematically, it's the greatest threat we face short of nuclear catastrophe."
Join Greg Hunter as he goes One-on-One with Dane Wigington, founder of GeoEngineeringWatch.org.
(To Donate to USAWatchdog.com Click Here)    
After the Interview: 
There are thousands of documents, research papers, videos and numerous scientific sources compiled by Dane Wigington on GeoEngineeringWatch.org. You can access the voluminous data on the site free of charge.  If you want to donate to GeoengineeringWatch.org, go to the home page and look for the "Donate" button in the upper right-hand side of the page.  GeoEngineeringWatch.org also has a snail mail address, as well.
Wigington has passed along a few links to help get people started, such as this one called "Climate Engineering Fact and Photo Summary."
GeoEngineeringWatch.org also regularly gets experts in the field to go on record as a former NASA scientist did a few weeks ago in a post titled "Ozone Layer Collapse, A Former NASA Contract Engineer Warns of Planetary Omnicide."
You can do a deeper dive by looking at the 1978 U.S. Senate document laying out Geoengineering for the planet.