Dems Block Iran Nuke No Vote, Syria War Intensifies, Fed Rate Hike, Hillary in Deeper Trouble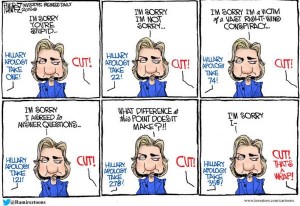 By Greg Hunter's USAWatchdog.com WNW 207 9.11.15 
Democrats are going to try to block Republicans from killing the Iran nuke deal.  The Republicans do not have the 60 votes needed to stop a Democrat filibuster.  So, Obama will not have to veto the Republican bill to stop the deal from going through.  The Democrats are not even going to allow a vote on killing the deal.  Ten Democrats are up for re-election, and none of them want to be on record voting to allow it to go through.  This is far from over as the Republicans are looking for ways to kill the deal, and I am sure they will at least want Democrats on record allowing this to go through.  They know this is a bad deal, if you want to call it that.  It is really total capitulation as John Kerry admitted he did not have access to the side deal on inspecting Iran's military nuclear sites.  Iran's top brass has said it will not issue the permits to inspect its military sites.  There really is no deal.  This is nothing more than theater from the Obama Administration.
The war in Syria is intensifying as Russia now confirms its troops are fighting alongside of pro-Assad forces against ISIS.  This is not about Sunni verses Shia.  This is about oil and natural gas pipelines.  Iran has one it wants, and Qatar and the Saudis have one they want, and both go right through Syria.  The war is over the pipeline that Assad would not allow.  The Russians are merely protecting their interests and market share in Europe.  They are going to apparently fight to the death to find out who will be in control of Syria and the pipeline routes.  I have been saying since 2009 that the Russians would not allow Syria to fall, and that is exactly what is going on.
The big question is will the Federal Reserve raise interest rates or not next week.  If they do raise rates, then they want to intentionally crash the economy and let the air out of the stock market. The World Bank is warning the Fed not to raise rates because it would cause "panic and turmoil."  Gregory Mannarino, who called the stock market top in May, says either way, the market is going to hate what the Fed does on rates.  If they raise them, the market tanks and the bell rings on low rates.  If they do not raise them, then the market will know the economy is not in "recovery," and that too spells trouble.
Hillary Clinton is now criticizing President Obama and said that Americans "…need a leader who cares about them again."  I am not sure that criticizing the man who is in control of the country and the Justice Department is a good idea, especially when Ms. Clinton is in very hot water over her private email server while she was Secretary of State.  So hot she has formally apologized for the "mistake."  Can you just apologize for breaking the law?  Many experts say national security was breached because of Clinton's use of this unprotected server.  She already has one staffer who wants immunity to give information on her server.  Now, Hillary's top lieutenant, Huma Abedin, was investigated by the FBI last year for embezzlement after she filed phony time cards at the State Department.   I have predicted for months that Clinton will not be President.  Bernie Sanders is now beating her in Iowa.
Join Greg Hunter as he talks about these stories and more in the Weekly News Wrap-Up.