MSM Pushing Turnaround for Economy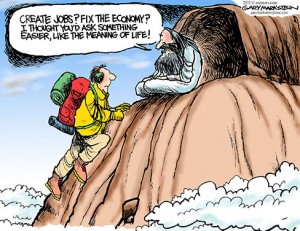 By Greg Hunter's USAWatchdog.com 
Over the last several days, I began hearing a new description of the economy by the mainstream media (MSM)—"turnaround."  I can't tell you how many different ways this phrase was used, but it was enough to get my attention.  I don't know who comes up with this stuff or where it is hatched, but I think this phrase is the new "recovery" term.  Remember when we started out with "green shoots"?  That phrase turned yellow and died.  Then, there was the "fragile recovery," and that turned into just a "recovery."  After that, we hit a "soft patch" and that was just "transitory."  Now, we have moved on to the "turnaround."  Is the economy turning around?  The data say no.   
Sure, we had a recent uptick in consumer confidence, and there was some improvement in car sales, but both are way down from their highs before the 2008 meltdown.  When it comes to home sales, well, the most recent numbers from the Case-Shiller index shows an ongoing disaster.  In the 20 city survey of home values, all but one market was down—Washington, D.C.  This is, of course, the home of the big spending government.  How much were home prices up there?–a whopping 1.3%.   The average year over year decline in the entire 20 city survey was a negative 3.4%.  Some markets, such as Tampa, Seattle, Minneapolis and Las Vegas, were down between 6% and 8.5%.  In Atlanta, home prices were down by nearly 12%!  (Read the entire Case-Shiller report by clicking here.)  
Please keep in mind, these declines are happening despite a 30 year mortgage rate of around 4%.  Many say this is an artificial rate that is being engineered by the Federal Reserve.  What do you think will happen to home prices when interest rates rise to a modest 7% level?  Can you say second leg of a housing crash?  I'll say it again, what "turnaround"?   
The most recent estimates from the National Retail Federation are projecting holiday sales will be up 3.8% over last year.  (We will know the actual numbers in few weeks.)  I wonder how much of this increase will be attributed to inflation?  According to the official government number, it is running at 3.4% annually.  If you compute inflation the way the government did in 1980 and earlier, it would be 11% (according to Shadowstats.com.) 
Speaking of Shadowstats.com, the latest issue is not showing the "turnaround" the MSM is crowing about.  Here are two of the headlines from the most recent report that pretty much says it all:  "GDI (gross domestic income) Indicates No U.S. Economic Growth in Either Second- or Third-Quarter 2011" and "Durable Goods Orders and New Home Sales Show Stagnation."  Are these the headlines that point to a "turnaround"? 
Finally, Sears waited until after Christmas to announce the iconic retailer will close as many as 120 stores.   CBS News reported yesterday, "Credit Suisse analyst Gary Balter says the softer-than-expected holiday sales performance point to "deepening problems at this struggling chain and renewed worries about Sears survivability."  Balter added that Sears' weakening performance may lead its vendors to start to worry about their exposure. If vendors stop shipping to a retailer or start insisting on cash up front, it can spell the end."  (Click here to read the complete CBS News story.)   
I heard one analyst, this week, predict Sears would be forced to file for bankruptcy in 2012.  I hope he is wrong because I like them; however, I realize Sears is not having trouble because it is selling too much stuff and making too much money.  This may be anecdotal evidence of a failing economy, but when a 125 year old retailer is fighting to stay afloat, I think it speaks volumes about the real economy.  I wonder how long this "turnaround" is going to last.