Financial Reform Bill Will Not Stop the Next Meltdown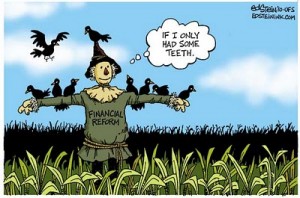 By Greg Hunter's
The much awaited financial reform bill was finished up in an overnight marathon House and Senate committee session last week.  Now it appears there is a holdup in the Senate because of the $19 billion bank tax contained in the legislation.  Several Senators on both sides of the isle want to remove the tax leaving a bill that must be paid for by taxpayers or not implemented at all.   This bill came about as a result of the near collapse of the financial system brought about by reckless bankers with little oversight and regulation.  It is supposed to reign in the banks and not allow any bank to be "too big to fail."
Some of the bill's highlights, according to published reports, include:  A provision called the Volcker Rule was supposed to ban banks from investing with hedge funds and private equity funds.  Back in the 2008 financial meltdown, the Fed bailed out hedge funds and private equity firms because they were in business with the banks.  Their losses could have caused major banks to become insolvent.  The Volcker Rule was watered down in the bill so banks can still invest there but with a little less money.
The more than $600 trillion derivatives market was supposed to get some tough regulation and force banks to spin off risky trading operations.  Loopholes were created for the banks so they can keep trading those profitable but risky securities.  There are some new restrictions, but in the grand scheme of things, it's not nearly enough.  (Some say the real value of the derivatives market is more than a $1,000 trillion.)
The rating agencies that gave top grades to toxic debt dodged a bullet.  The new bill makes it harder for investors to sue the bond rating companies for losses.  Also, not much will get done until after a two year study on the rating agencies is done by regulators.  These folks vouched for trillions of dollars of insolvent junk that was supposed to be equal to the "risk free" return of treasuries.  Those wildly optimistic ratings helped cause the financial crisis, and nothing is going to be done for two years?  In my view, this is simply outrageous and borders on a criminal cover-up. (Click here for an overview of the bill from The Wall Street Journal.)
There are going to be some increased capital requirements for the banks and financial industry.  Will more cash on hand and the rest of the financial reform bill end the idea that some banks are "too big to fail?"  FDIC Chairman Sheila Bair says yes it will.  (Click here for the Bair story.) Former FDIC Chairman Bill Isaac says it will not, "We have 5 banks that control over 50% of the banking system, and none of those five banks are ever going to be allowed to fail no matter what this bill says. . . The bill ends "too big to fail" if you are not too big and, also, if the economy is not in too much trouble."   When the economy does get into trouble, expect "déjà vu all over again."  Isaac says, "If we are in the middle of a crisis, they're going to do the same thing next time as they did this time.  They stop the crisis by stopping failures."  (To see Isaac's complete interview on CNBC click here.)
 There is no telling how lobbyists will sway regulators to implement the new bill after it is signed into law.  Some say the legislation is more advantageous to big banks.  One Wall Street watcher says it might just allow them to get bigger than they are now.  Others say the new bill might make them smaller, but everyone agrees it could have been much worse for the big banks. Their stock prices all rallied on Friday after the announcement the bill was finished.  I predict consumers will be the big loser.  Bank fees on everything will be going up to pay for additional costs to the banks for the new regulations.
One small bright spot, the one time audit of the Federal Reserve is still in the bill.   According to a Bloomberg story, "U.S. central bankers face a one-time audit of emergency loans and other actions taken to combat the financial crisis since 2007. Under another change, the central bank, after a two- year delay, will have to identify firms that borrow through its discount window and participate in the Fed's purchases or sales of assets, such as mortgage-backed securities."  (Click here for the complete Bloomberg story)  That's not much, but it is a step in the right direction.
What this so-called financial reform bill did not address was failed mortgage giants Fannie Mae and Freddie Mac.  The federal government took them over in 2008.  The two represent more than $6 trillion in liability to taxpayers.  I guess if Congress ignores this budget busting black hole, it will just disappear.
As I said earlier, this legislation is supposed to end "too big to fail" and reign in the banks to prevent another financial meltdown.  It will do neither.  Bill Isaac says, "There is no reform of the regulatory structure that brought us this problem.  I don't see this bill doing much good at all."