GE Fraud, DB Trouble & Bo Polny on Coming Biblical Market Crash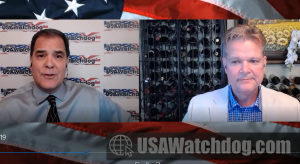 By Greg Hunter's USAWatchdog.com (WNW 396 8.16.19)
If you wanted another sign the economy is not doing well, look no further than the latest allegations General Electric is a "bigger fraud than Enron."  The person making this charge is Harry Markopolos who uncovered the $60 billion Bernie Madoff scam years ago. This is a DOW 30 stock, and downside of this news, if proven true, is dire.
Deutsche Bank (DB), the financial institution the International Monetary Fund (IMF) called the "most systemically dangerous bank in the world" back in 2016, hit a fresh new all-time low of $6.44 per share. Charles Nenner predicted that if DB went below $6.40, it would head to $0 in the not-so-distant-future. Will world renowned, market cycle expert Charles Nenner be proven correct?  This also has dire market implications!
Analyst Bo Polny, market cycle expert that applies the Bible to his work, says a "worldwide market crash is coming in 2019." Polny says gold and silver prices are headed to new all-time highs, and there will be severe market down turns coming in the months ahead. This is a first ever live interview included within the Wrap-Up.
Join Greg Hunter as he talks about the big financial stories of the week and also interviews Bo Polny of Gold2020Forecast.com about a market crash of Biblical proportions coming soon.
(To Donate to USAWatchdog.com Click Here)
After the Wrap-Up:
There is free information on Gold2020Forecast.com and free videos on Bo Polny's YouTube channel. Bo is also giving a free link to the slide show he talked about in this interview. Click here for the free slide show.
This segment is sponsored by Discount Gold and Silver Trading. Ask for Melody Cedarstrom, the owner, at 1-800-375-4188.