Gold's Flashing Warning Sign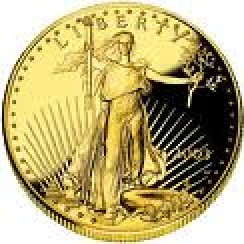 By Greg Hunter's USAWatchdog.com 
Gold hit another all-time high yesterday!  According to gold website Kitco.com, ". . . investors continue to seek out the precious yellow metal as a safe-haven asset amid heightened financial, economic and geopolitical uncertainty. One market watcher in a wire service report summed up nicely gold's recent price action, saying "it's a warm blanket on a cold day." August Comex gold closed up $4.80 an ounce at $1,245.60 after hitting a new high of $1,254.50 in early trading."   For gold investors, it was a gratifying event.  For everybody else, it should be considered a warning sign that all is not well in the financial world.  A wicked storm is blowing our way.  What is triggering gold's record rise?  I'll sum it up in just one little four letter word—DEBT, and lots of it.  It seems you can find it everywhere these days.  Debt has soured the banking system, but it is kept hidden with government sanctioned accounting fraud.  The consumer is loaded with debt and is tapped out.  Entire governments are on the brink of insolvency; just take a look at Europe.  The biggest ball of debt is possessed by our very own Uncle Sam.  Yesterday, Reuters reported, "The U.S. debt will top $13.6 trillion this year and climb to an estimated $19.6 trillion by 2015, according to a Treasury Department report to Congress."  (Click here for the complete Reuters story.) 
Let's just let that sink in for a moment.  The debt clock just tripped a cool $13 trillion, and we are going to tack on another $600 billion by the end of the year.  Wow! I can't believe I am still hearing that gold is in a bubble from the wonks on financial TV.  We are in deep trouble folks, and gold is trying to slap us in the face to wake us up!   Gold is not a commodity; it is money.  Just ask the folks in Greece, who will probably be leaving the European Monetary System, if they would like to hold gold instead of the Greek Drachma?
Debt is the problem.  There are only 2 things that can happen to debt.  You can either pay it off or default.  That's it.  The U.S. will not default outright.  It will continue to print money; however, that is the same as a default.  It just masks the action with inflation and spreads it out to everyone.  The U.S. is going to be taking on a lot more debt when the economy takes another plunge.  In his latest report, John Williams of shadowstats.com says, ". . . the economy is headed into an intensifying downturn or double-dip recession, which should blow apart forecasts of the federal budget deficit and related Treasury funding needs, as well as trigger massive selling of the U.S. Dollar. . . . Ahead lie likely increased federal bailouts of banks, the unemployed, insolvent states, etc., which will balloon the deficit and Treasury funding well beyond current market expectations."  More bailouts will require more money printing and that, in turn, will cause big inflation at the very least. ("Real" inflation, according to Williams, is running at 9.5 %.) Williams is projecting hyperinflation within the next 5 years.    
In a recent Bloomberg story, Bill Gross, who runs the world's biggest mutual fund, calls what we are facing "the debt super cycle trend."  Gross suggests, ". . . U.S. economic growth won't be enough to support the borrowings "if real interest rates were ever to go up instead of down."  (Click here for the complete Bloomberg story.)
I think Mr. Gross is also suggesting the U.S. government will be printing lots more money to make up for the shortfall.  He is not alone.  Egon von Greyerz, founder of goldswitzerland.com, was on CNBC Europe Monday to talk about the yellow metal.   Greyerz says the1980 $850 peak would equal more than $7,000 per ounce today if the price was calculated using "real" inflation numbers.  John Williams says the exact same thing, and this suggests the gold price will go much higher.
The video below treats you to a lively and informative discussion about the future of gold: