Obama's State of Delusion, FBI Widens Hillary Email Probe, Iran Detains US Sailors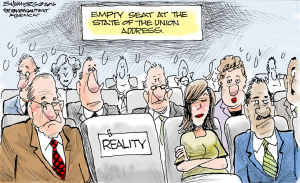 By Greg Hunter's USAWatchdog.com (WNW 222 1.15.16)

President Obama's State of the Union should be renamed to the State of Delusion after he said, "Anyone claiming that America's economy is in decline is peddling fiction." This is so off base and delusional I simply do not know where to start. There are so many metrics that prove the President wrong. The Labor Participation Rate stands at around 94 million, a record. The Baltic Dry Index has plunged to record lows, and the stock market is off to the worst start—ever. There is one headline after another that confirm the problems with the stock market are real. So is the fear the economy is sinking, and there is nothing the Fed can do about it.
The FBI probe into Hillary Clinton's email scandal is widening, according to FOX News. This is a huge story, folks, and yet most of the mainstream media (MSM) is choosing not to cover it, even though Mrs. Clinton is being asked about it on the campaign trail. Once again, the MSM is choosing to destroy its own business to shield a Democrat. In this case, a front-runner for president. The only reason a real news organization would ignore a legitimate story is that it does not fit their politics. As Marco Rubio said month ago, the MSM is the "Ultimate Super PAC for Democrats." This means the MSM that ignores a story about a front-runner and expanding FBI probe is not a news organization. It's a propaganda arm for Democrats.
Iran released 10 U.S. sailors that it said drifted into their waters in the Persian Gulf. There is an investigation, and Pentagon officials would only say the two Navy boats in question made a "navigational mistake." The boats were reportedly off course by 50 miles. According to Iranian news services, Iran locked its missiles onto French and U.S. aircraft carriers when they started to do maneuvers after the incident first happened. In published reports, Iran warned of war breaking out if things escalated. No telling what really happened, but one thing is for sure, the Iranians made a propaganda spectacle out of the incident. You can add it to the list of ballistic missile tests and shooting a missile near a U.S. aircraft carrier a few weeks ago in the Persian Gulf.
Join Greg Hunter as he talks about these stories and more in the Weekly News Wrap-Up.