Fed Hike Economy Down, Assad Stays in Syria, ISIS Gets Texas Truck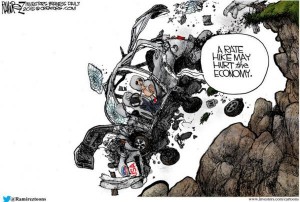 By Greg Hunter's USAWatchdog.com (WNW 220, 12.18.15)
The Fed finally did it. It raised a key short term rate by a quarter of a point. That is not the real story. The real story is how the non-functioning mainstream press swallowed the economic recovery story hook, line and sinker. Fed Head Janet Yellen boasted "The economic recovery has come a long way . . . ." Not a single reporter brought up new data that the Baltic Dry Index (released just a few days earlier) had hit record lows clearly signaling a downward spiraling global economy. What we just got was a real rate hike going into a phony recovery. What could go wrong?
Secretary of State Kerry just rolled over to the Russians and Iranians and agreed that Basher al-Assad can stay in Syria, at least for now. The Obama Administration wants Assad to eventually leave, but I don't see how that is going to happen. I think Russia and Iran drew a line in the sand, and Obama backed off—again. The U.S. is going to recall the F-15's it sent to Turkey.   That's right, it sent 12 jets to Turkey last month, and after Turkey shot down that Russian jet on its border, the U.S. is recalling the fighters. It looks like the U.S. does not want to come between Turkey and Russia. Maybe it's because Russia just deployed its new S-400 missiles that are capable of shooting down aircraft flying at 2,800 miles per hour, 10 miles high. Putin has dared Turkey to fly jets into Syrian airspace. This is far from over.
Meanwhile, a used plumbing truck from Houston, Texas, has ended up in Syria in the hands of ISIS. It converted the truck into a military vehicle by mounting a machine gun on it. How did that happen? According to the former owner, it was wholesaled back in 2013 after he traded it in on a new truck. The former owner filed a million dollar lawsuit against the dealer for not removing his company decal before the sale. The former owner, who owns a plumbing company, says he has gotten a thousand threatening and harassing phone calls. Here's what the lawsuit revealed. The truck was shipped to Turkey after it was sold at auction back in 2013. Then, it was shipped to Turkey, and now it is a military vehicle in the ISIS terror army in Syria. Once again, Turkey, a NATO member, is helping ISIS. How can the U.S. not know that Turkey is funding and supplying this terror group? It is also clear that the U.S. is funding and supplying ISIS through the so-called moderate rebels. What kind of a foreign policy is this?
Join Greg Hunter as he talks about these stories and more in the Weekly News Wrap-Up.