Hillary Clinton Email Trouble, China Devalues Yuan, No Iran Deal Kills Dollar says Kerry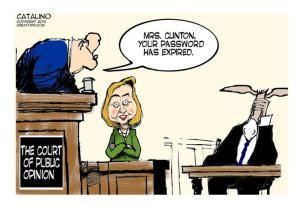 By Greg Hunter's USAWatchdog.com (WNW 203, 8/14/15) 
Hillary Clinton is in big trouble with her private server and how classified and "Top Secret" documents were handled. It is reported she turned over her private server to the FBI, and it is also reported it was professionally wiped clean. She was legally required to keep it intact. ABC News is reporting she got tips on "How to delete something so it stays deleted." Wiping the server clean is not going to save her from a huge and growing legal mess. It is already known that Top Secret documents were not handled correctly, and that even the words "Top Secret" were removed when sending some emails from the State Department to Clinton's private server. This happened while the Democratic front runner ran the State Department. This story is not going to go away, and now people are openly calling her a criminal and calling for a Special Prosecutor. This is not just Mrs. Clinton, but also her staff are being implicated in alleged national security breaches and outright crime to cover it up. Clinton maintains she has done nothing wrong.  There are numerous allegations of criminal acts and conspiracy that is surrounding this growing scandal.  My prediction, a few months ago was Hillary Clinton will not be President, and now I am wondering if she will drop out before the first primary. Please keep in mind that General Petraeus got a $100,000 fine and 2 years probation for having a stack of classified papers in his desk. This is far worse by orders of magnitude. Not only that, but Clinton has long said that she "no classified information," which we now know is a blatant lie that she said* under oath to Congress. If President Obama wanted a solid case to trash his nemesis Hillary Clinton, this is it and totally legit. Hillary Clinton will be lucky if she does not end up in jail. She certainly will not be the next President of the United States. She and we do not deserve it.
China has devalued its currency this week multiple times. When China did the first devaluation of the yuan, we were told by the mainstream media not to worry. It was a one and done event. That is not so, and it is looking more and more like a trend. China looks like it is panicking over its sinking economy, and devaluing its currency is a way to make its products cheaper and allow it to export more.  Donald Trump said this was "devastating to the U.S." Why? Because it makes everything exported to China more expensive virtually overnight. Top export states that do business with China such as California could be hurt. California alone dose $15 billion a year in trade with China. This could and probably will touch off a currency war, and everybody will devalue so they will not lose market share. The global economy is clearly losing steam, and everybody is desperate to keep this debt bubble from popping. There are extreme amounts of debt in every corner of the world, and it is getting harder and harder to keep up. In the long run, if you devalue the currency, you devalue the bonds. What will the U.S. do? They certainly are not going to be raising interest rates unless they intentionally want to crash the economy.  This move by China is a sign that things are getting worse, not better.
Secretary of State John Kerry says if the Iran nuclear deal is not passed by Congress, the U.S. dollar could cease being the world reserve currency. Is John Kerry already setting up the blame game for the huge economic problems coming? Maybe, blame every economic woe coming on the Republicans because of a NO vote on the Iran nuke deal. This is an odd warning from a man who was the lead negotiator who told Congress he "does not have access" to the side deals between Iran and the UN inspectors. This deal hinges on verification, and he does not know the details of the inspections? He is either a liar or a buffoon, and he may be both. I told you last week that I did not know how Senator Chuck Schumer could vote yes on this deal. The next day, he announced he would not vote for it. I suspect many Democrats will follow his lead and vote NO with the Republicans. It is looking like Obama's veto will be overridden, especially with news of top Iranian and Russian military personnel taking turns visiting each other's country.
Join Greg Hunter as he looks at these stories and more in the Weekly News Wrap-Up.