Intensifying War, Enormous Upside for Gold – Charles Nenner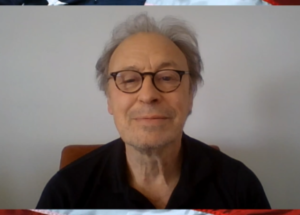 By Greg Hunter's USAWatchdog.com 
Renowned geopolitical and financial cycle expert Charles Nenner said back in late November, interest rates were on the way down but "for the very short term."  Nenner also predicted that inflation might come down to around 6.5%.  The latest CPI number clocked in this week at 6.4%.  Nenner was right on both counts.  Now, Nenner says inflation bottomed, and his cycle says prices for everything will go up from here.  So, is the Fed going to do the so-called pivot and start lowering interest rates?  Nenner says, "We are going up, not right away, but we are going up.  You don't hear the talk anymore that the Fed is going to lower rates because it is so ridiculous. If you are an insider, the Fed Funds Rate in the futures just made a new high.  So, now everybody is expecting a much higher Fed Funds Rate than a few months ago. We are not out of trouble yet, and the bounce in stocks is almost over."
Nenner sees "short term rates going up until 2024" and a "Fed Funds Rate of 6.5%."  Nenner also thinks "the stock market can go down 40%" later in 2023.
On the war front, Nenner said the war in Ukraine would get worse, and he was right again.  Now, Nenner says, "If the West does not understand what is going on and starts bringing in airplanes, I am really afraid for the worst.  Nobody has any idea how other countries think.  They think you can push everybody around, and you can't push everybody around.  At a certain moment, they will have enough.  I don't think we are ready for a big war, not even to mention a nuclear war.  So, something is going to come and make everyone very afraid, and I think this is why the markets will go down."
In other words, people start freaking out by the middle of 2023 and the markets tank?  Nenner says, "Right.  Based on the war cycle, the war is going to pick up, and it is not going to end well."
Nenner says the bull market in gold he sees in his cycles has not started–yet, but it's only weeks away.
Nenner sees, "An enormous upside for gold. . . . I say enormous because I have inside information from the big economic summit in Davos.  I heard things that can make your stomach turn.  They are really concerned with taking out cash.  The will have digital currency. . . . Gold can hit $2,500 (per ounce), and we said that years ago.  If it goes to that, gold can go to $30,000 per ounce.  That could be because maybe things get so bad they have to go back to the gold standard."
Nenner sees higher prices for food and energy and lower prices for residential and commercial real estate.
There is much more in the 48-minute interview.
Join Greg Hunter of USAWatchdog.com as he goes One-on-One with renowned cycle analyst and financial expert Charles Nenner. (2.14.23)
(To Donate to USAWatchdog.com Click Here)
(Tech Note: If you do not see the video, know it is there. Unplug your modem and plug it back in after 30 sec.  This will clear codes that may be blocking you from seeing it.  In addition, try different browsers.  Also, turn off all ad blockers if you have them. All the above is a way to censor people like USAWatchdog.com.)
After the Interview:
There is free information and analysis on CharlesNenner.com.
You can also sign up to be a subscriber for Nenner's cutting edge cycle work with a free trial period by clicking here.
(USAW does not share in Nenner's revenue in any way.  We do this as a courtesy.)
This segment is sponsored by Discount Gold and Silver Trading. Ask for Melody Cedarstrom, the owner, at 1-800-375-4188.