Intractable Inflation Very Dangerous New Paradigm – Michael Pento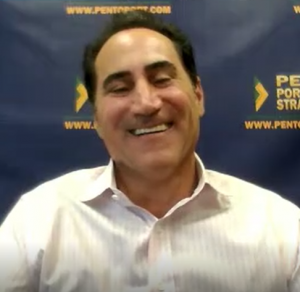 By Greg Hunter's USAWatchdog.com
Money manager Michael Pento says get ready for big inflation. Pento explains, "When the emergency ended (from the 2008-2009 financial meltdown), they were going to reverse course, sell those assets back to the public and take those dollars out of the economy. . . . A funny thing happened on the way to doing that, the global economy imploded. So, here's the point . . . the central banks have admitted, tacitly at least, they can never take away those assets. They can never drain their balance sheet, meaning they have permanently monetized this debt. Interest rates can never be allowed to rise above 0% in nominal terms and, in real terms, will grow more and more profoundly negative. That should shock investors. That is a moment of enlightenment, a watershed moment, an epiphany throughout the world. Hello investors, central banks are putting you on notice that nominal interest rates are going to be at 0% or below, and real interest rates will grow more and more negative throughout time. . . . If China cannot re-leverage its economy for explosive growth, and central banks are extremely fettered with their ability and means for which to stimulate economic growth immediately, I would be cautious about buying this rally, which I am. I think we are going to have one more sharp downturn in the equity market . . . and then, here's the sad truth, you have to go massively long inflation hedges."
This brings up top gold and silver for protection against the coming money printing and inflation. Pento explains, "These currencies will collapse against precious metals as they did in Rome. Prices will go a lot higher as they did in Rome. . . . When people lose faith in a currency's purchasing power . . . this is why gold has had spectacular three month rally, and I expect it to continue after a little consolidation here. . . . The debt has been permanently monetized across the globe. That's pretty scary. If we are all headed in the same direction as Rome, that is pretty frightening. . . . Central banks have messed up for lack of a better word. They understand that they control the entire global economy. They control all asset prices, and they can never step away. That should scare everybody."
In closing, Pento gives his simple economic road map. Pento says, "We're going to have one final whoosh down in stock prices and in the economy. That's going to bring Jerome Powell (Fed Head) back to 0% interest rates and back into QE (money printing), and then it is intractable inflation for as far as the eye can see. That is going to be a very, very dangerous new paradigm for the world. We are all going to look like Rome. Real interest rates will be falling, and that is rocket fuel for gold."
Join Greg Hunter as he goes One-on-One with money manager Michael Pento of Pento Portfolio Strategies.
(To Donate to USAWatchdog.com Click Here)
After the Interview: 
Pento also points out that the "non-financial" debt in the USA was $33 trillion in 2008. Today that same "non-financial" debt has ballooned to $51 trillion. That's an $18 trillion increase in just 11 years. Pento says this is yet another sign that inflation will have to be pushed, and the default will be through massive inflation.
There is much free information, articles and videos on PentoPort.com. 
This segment is sponsored by Discount Gold and Silver Trading. Ask for Melody Cedarstrom, the owner, at 1-800-375-4188.