Keep Your Faith – Trump Already Won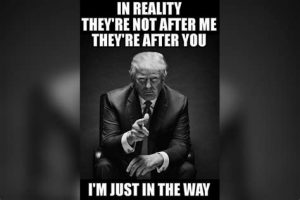 By Greg Hunter's USAWatchdog.com (WNW 456 11.06.2020)
I am hearing a lot of folks saying it looks like Donald Trump has lost.  Trump has already won.  President Trump said in a press conference on Thursday that there is "lots of litigation coming" and also said, "We will win easily."
This massive voter and election fraud revolves around the tens of millions of ballots that were sent out all over the country with zero controls or any way whatsoever to verify their legitimacy.  Mickey Mouse can vote in this election, and probably has a hundred times over.  In Michigan alone, more than 138,000 ballots, all for Joe Biden, were dropped off in the middle of the night.  Trump says fraud on this scale has never been seen before in the history of the United States.  The fraud is so big it cannot be covered up and will be revealed, and when it is, Trump will be declared the winner.
There was a red wave so huge that it defeated the massive voter fraud operation, and the Dems had to stop the count on Election Night to figure out how they can cheat Joe Biden in the rest of the way.  I repeat, it's not going to work.  Trump will get a second term, and everyone needs to keep their faith and not fall for the ongoing psyop by big media, big tech and big money.
Join Greg Hunter of USAWatchdog.com as he talks about biggest election fraud in history and how it will be defeated.
(To Donate to USAWatchdog.com Click Here)
After the Wrap-Up:
Alex Newman of The New American and LibertySentinel.org will be the guest for the Saturday Night Post.