No More Debates, Kamala is Speaking, Sick Economy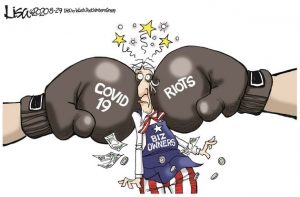 By Greg Hunter's USAWatchdog.com (10.09.2020 WNW 452)
It's official, there will be no more debates unless Joe Biden decides to take on the President in person.  The so-called "Presidential Debate Commission" now says the next debate should be virtual, and President Trump said no way.  The Trump campaign says, "Swamp creatures . . .  to now rush to Joe Biden's defense by universally cancelling an in-person debate is pathetic."  President Trump says he will "do a rally instead" now that he has been cured of Covid and released by his doctors. Something else that is "pathetic" is Speaker Pelosi taking another run at President Trump using the 25th Amendment.  It ain't going to work.
The Vice Presidential Debate is now history.  Who won?  It's hard to tell.  Harris went on the attack early and often and looks like she tied up Pence with the phrase "I am speaking," even though she didn't really say much.  She pushed identity politics and systemic racism issues of the Left.  Harris did not answer direct questions about packing the Supreme Court with far Left Marxist liberals if the Biden Harris team won.  Pence, on the other hand, scored some points about economic policy, destroying ISIS and continued tax cuts.  Pence missed some opportunities to hit up Harris over $ 1.5 billion in China payoffs to Hunter Biden and did not tag her for the violence encouraged by her party that never spoke out about burning down cities around the country.  Pence won, and the only thing the Dems can talk about is "I am speaking," which ain't going to win an election.
Another 840,000 people filed for unemployment claims in the latest numbers to come out of the Department of Labor.  The stimulus deal looks dead as the President has broken off talks because he says Speaker Pelosi is "not negotiating in good faith."  Trump does have some options to continue unemployment payments, but a stimulus deal would be much better to get the economy back to work.
Join Greg Hunter of USAWatchdog.com as he talks about these stories and more in the Weekly News Wrap-Up.
(To Donate to USAWatchdog.com Click Here)
After the Wrap-Up:
Money manager Axel Merk will be the guest for the "Saturday Night Post." Merk will talk about gold, silver, US dollar, inflation, deflation, where the economy is heading and how he is investing his assets.