North Korea ICBM Danger, Economic Update, DNC Server Still Hidden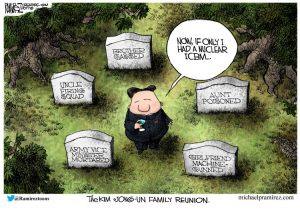 By Greg Hunter's USAWatchdog.com (WNW291 7.7.17)
North Korea celebrated the Fourth of July with a bang by successfully launching a brand new ICBM.  An emergency meeting was called at the UN, and the President said it was "dangerous" and would have to be "dealt with."
The Illinois legislature has overridden the Republican Governor's veto in that state to pass a spending bill and give its citizens a 32% tax increase.  Lawmakers will not cut anything and will only raise taxes.  The one thing that might get cut is the bond ratings for Illinois state debt.  The ratings agencies are threatening to cut the debt from the Land of Lincoln to junk.
The DNC servers, where Russia allegedly hacked, are still not in control of the government's special prosecutor on Russia interference with the 2016 election.  The question is why is the DNC server being withheld?  It has  the most critical evidence and proof of Russian hacking.  What does the DNC have to hide?
Join Greg Hunter as he talks about these stories and more in the Weekly News Wrap-Up.
After the Wrap-Up:
Tech expert and startup entrepreneur Kevin Lawton will come on the "Early Sunday release" to help navigate  crypto currencies including Bitcoin.  Find out why there is a "Bitcoin Civil War" coming.
(To Donate to USAWatchdog.com Click Here)