Real or Fake Bombs? Trump Will Stop Caravan, Economic Update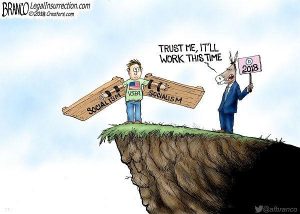 By Greg Hunter's USAWatchdog.com (WNW 358 10.26.18)
There have been nearly a dozen so-called bombs sent to top Democrats around the country mainly on the east coast. None of them were detonated.  I say "so-called" because police are reporting that many of the bombs "could not have exploded." White powder sent with some of the packages also turned out to be harmless. What gives? Law enforcement is treating this as a real threat, as they should. They are going to get to the bottom of this. Is this an attempt by an idiot wacko to hurt people, or is this an attempt by desperate Democrats to garner positive attention and play the victim for the midterm elections. Many around the internet are calling this a total hoax.
The caravan of illegal immigrants that is still nearly 1,000 miles away from the southern border of the United States is slowly making its way north through Mexico. President Trump is shutting down the border and promises they will not be allowed to illegally cross into the U.S. Trump has told them to "turn around and go home," and some of them are. Trump also says there are gang members, human traffickers and Middle East terrorists in the group, as well. The President is sending the military to the border to make sure none of them get into America.
The stock market was on another wild ride this week, going down and up by hundreds of points in both directions. Is this a healthy market or one that is about to crack?
Join Greg Hunter as he talks about the top stories of the past week in the Weekly News Wrap-Up.
(To Donate to USAWatchdog.com Click Here)
After the Interview:
Steve Quayle will be the guest on the Early Sunday Release. Is civil war coming? Quayle thinks so, and lays out his reasons why.