Trump Coup Criminals Waged War on US – Alex Newman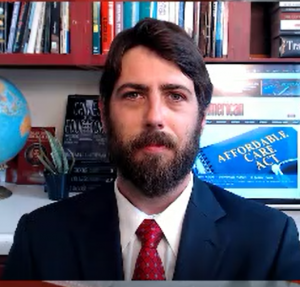 By Greg Hunter's USAWatchdog.com 
Journalist Alex Newman says the case against President Trump has proven to be an elaborate treasonous hoax and now is the time for consequences. Newman explains, "The time to prove this is finished. Everybody now knows this was a giant hoax. If this would have happened in any other country, imagine a coup against Angela Merkel where senior officials conspired to make up stuff and overthrow her government. Imagine this against Theresa May, Emmanuel Macron or the President of Mexico. In any one of those countries, all the coup plotters, all the traitors would have been rounded up, arrested and put on trial. Even the people realize this was a hoax, and not just a hoax because a hoax implies something funny or playful–this was a plot. This was a conspiracy to overthrow the democratically elected President of the United States and overthrow our constitutional system of government using criminal means to wage war on the United States. . . . There is nothing to discuss anymore. We know they did it. It's time for them to be arrested and put on trial. I am very pleased that President Trump is using the word 'treason.' That's the word that needs to be used, and the time to strike is now."
Newman also says what happened in the failed coup to overthrow President Trump is much bigger than Hillary Clinton and the Obama Administration. Newman contends, "This is much bigger, and the reality is the Deep State you are hearing talked about on the mainstream media and FOX News is about rogue bureaucrats. They are talking about FBI officials and officials at the intelligence agencies such as John Brennan and potentially even Obama and Hillary. The reality is the Deep State goes so much deeper than that. Behind the scenes, there is this vast network of secret organizations . . . where all the Deep Staters that we see interlock and meet up with Deep Staters that we don't see. Probably the premier U.S. example of this is the Council on Foreign Relations. This is an international movement . . . and the goal has always been, as they admit themselves . . . the goal has always been to subvert U.S. sovereignty and merge us into a global regime that people call the New World Order."
On the outrageous open borders and baby killing policies of the now far left Democrat party, Newman says, "The crazy is now coming out of the closet. That's why they want the open borders. They know they have lost the American people. They are now coming out of the closet with this kookiness. They kill babies, they praise a communist cop killer. . . . We knew this was the Democrat party. We knew that the elites held these crazy views, but the public at large didn't. Now, they are revealing their true colors. . . . Democrats have now become a threat to the survival of our republic as a free republic. They have become a threat to the survival of our Constitution and our liberties. . . . It's win or lose right now. That is the situation they are in. If they don't succeed this time around, I think they realize too many people are going to wake up, and they are going to be in major trouble. So, they are just going for it all the way right now–full stop. It really is a fight to the finish, and I think they are hoping with voter fraud, illegal immigration and brain washing of the kids, they can still pull this off. . . . The reality is people are waking up in huge numbers, and they can't contain it anymore, even with censorship of the internet. . . . People are hungry for the truth, and people know they have been lied to."
Join Greg hunter as he goes One-on-One with Alex Newman, International Correspondent for The New American Magazine.
(To Donate to USAWatchdog.com Click Here)
After the Interview:
Alex Newman is a prolific writer for TheNewAmerican.com.  Newman also has his own website called LibertySentinel.org. Both sites are free and packed with original analysis and reporting.