Trump Election Battle Continues, Christmas Message 2020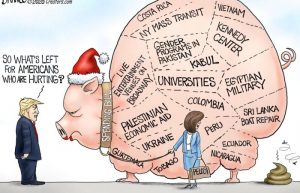 By Greg Hunter's USAWatchdog.com (WNW 463 12.25.2020)
The election fraud battle is far from over, and President Trump does not look like a man who is ready to give up–quite the contrary.  If you want an excellent summation of all the fraud and crime that has been uncovered since Election Day, please watch the President's 14 minute video outlining the outrageous scam that the 2020 Election really was.  These are facts and NOT some tinfoil hat theories that the Left and corrupt propaganda mainstream media (MSM) keeps telling you.  Trump is not giving up, and neither should you accept the pretend president Joe Biden.  Trump won by a record number of votes for a sitting President, and that too is a fact no matter how much Big Tech or the propaganda MSM tells you there was no election or voter fraud.  God is going to weigh in on this, and the Dems, globalists and Satan worshipers will not be liking what God has for an outcome to the 2020 Election.
Christ's birth, death and resurrection truly changed the world, and only He offers salvation and redemption for anyone who believes in the Son of God.  Please don't let the election chaos get between you and your birthday celebration of our Lord and Savior Jesus Christ.  Please have a Merry Christ mas no matter what.
Join Greg Hunter of USAWatchdog.com as he talks about the progress of the election and gives his Christmas message for 2020.
(Donations | Greg Hunter's USAWatchdog)

After the Interview:
Hard hitting journalist Alex Newman will be the guest for the Saturday Night Post.  He has a list of things to look out for in 2021.