Trump Runs, Biden Investigated, Deepening Economic Collapse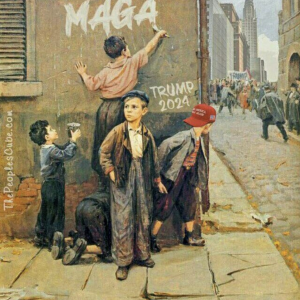 By Greg Hunter's USAWatchdog.com (WNW 556 11.18.22)
There was a huge political news story this week, but you would not have known it if you listened to the Lying Legacy Media (LLM).  They simply did not cover Donald J. Trump's announcement to run for President again in 2024 on Tuesday, 11/15/22.  That's not big news?  Of course, it is no matter if you like him or not.  This proves beyond a shadow of a doubt that the so-called "news" organizations are in the tank for the globalist cabal, and that includes leadership of BOTH parties.
It is a miracle, but the Republicans won control of the House of Representatives.  First on the "to do list" is investigate President Joe Biden.  The incoming House leadership is investigating Biden for felonies such as wire fraud and money laundering, just to name a few.  Meanwhile, the Governor's race in Arizona is still contested by Kari Lake, and she has no plans to concede.  The LLM is calling her an "Election Denier," but she says Arizonians know BS when they see it.  The 2022 Midterm election there will probably be settled in court.  There are some other election hot spots, and Pennsylvania is on that list.  Patriots there are trying to stop the certification because of irregularities and fraud.
Anybody still thinking the Fed is going to "pivot" and start lowering interest rates is in dream land.  The Fed's new Fed Funds target rate is as high as 7%.  The Fed Funds rate is now around 4%.  The Fed is determined to fight inflation and the economy, and employment be damned.  No doubt the FTX crypto implosion is going to lead to huge economic problems and expose major parts of the financial and political system to be a total fraud fest.  This while new Shadowstats.com data and analysis is showing a "deepening economic collapse."  Take some risk off the table and harden your physical and financial position.
There is much more in the 58-Minute Newscast.
Join Greg Hunter of USAWatchdog.com as he talks about these stories and more in the Weekly News Wrap-Up for 11.18.22.
(To Donate to USAWatchdog.com Click Here)
(Tech Note: If you do not see the video, know it is there. Unplug your modem and plug it back in after 30 sec.  This will clear codes that may be blocking you from seeing it.  In addition, try different browsers.  Also, turn off all ad blockers if you have them. All the above is a way to censor people like USAWatchdog.com.)
After the Interview: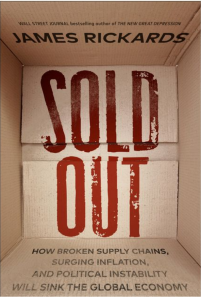 Six-time, best-selling financial author James Rickards will be the guest for the Saturday Night Post.  He will talk about his new book titled "Sold Out" and tell us why the global economy will sink for years to come.