Trump Wins & Loses, Biden Impeachment, More Ukraine War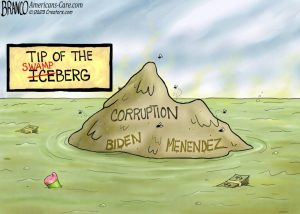 By Greg Hunter's USAWatchdog.com (WNW 601 9.29.23)
President Trump won the Republican debate this week without showing up.  This is according to a Daily Mail poll after the GOP debate that Trump stayed away from.  Meanwhile, Trump's business license has been revoked in New York by a judge to punish him for fraud BEFORE a case being brought by the NY Attorney General Letitia James.  Trump is appealing that ruling and going to court in New York on the NY fraud case on October 2nd.
Joe Biden is facing impeachment in the House of Representatives.  The Democrat talking point: "There is no evidence."  Of course, just the opposite is true.  There is plenty of evidence that Biden and many in his family took secret money from foreign sources.  In other words, Joe Biden and family took bribes according to the Republicans on the impeachment committee.  They are also calling what Biden and his family did was treason.  We will see if there will be a conviction and removal from office when this hits the Senate.
Ukrainian soldiers are surrendering by the thousands in Ukraine since the beginning of summer.  10,000 have reportedly turned themselves over to Russian forces rather than being turned into hamburger.  400,000 to 500,000 Ukraine military have been killed in action during the nearly 2-year war.  80,000 reportedly have been killed during the failed so-called "counter-offensive" that started in early June.  The Russians are winning big, and the Lying Legacy Media have been lying to America the entire time.  Ukraine is a NATO disaster, and it should stop ASAP.
There is much more in the 48-minute newscast.
Join Greg Hunter of USAWatchdog.com as he talks about these stories and more in the Weekly News Wrap-Up for 9.29.23.
(To Donate to USAWatchdog.com Click Here)
After the Interview: 
Renowned geopolitical and financial cycle expert Charles Nenner will be the guest for the Saturday Night Post.  Everything — stocks, bonds, gold, real estate and war look bad in his cycles.  One thing looks good.  Watch the interview to find out what Charles Nenner would buy now.