Turning Points: Trump, War, Dollar, Vax & LLM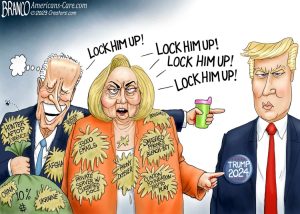 By Greg Hunter's USAWatchdog.com (WNW 576 4.7.23)
President Donald Trump has been indicted on 34 bogus counts of fraud by an ultra-left New York prosecutor.  This was a huge turning point in American politics.  It has never been done to a former President and leading candidate in the opposing party.  It represents how deranged the Democrat party has become.  The Lying Legacy Media (LLM) cheered on the pain for Trump this week and reported he was arrested– when he was really only indicted.  CBS News (propaganda) buried what really happened.  CBS said in one report "an arraignment is different than an arrest" and went on to report that Trump was arrested like all the other LLM. There was no bail, no mug shot taken and no handcuffs.  There were some positive turning points for Trump.  He raised $10 million and has skyrocketed in the polls.  This has backfired in a big way on the Deep State Democrats and is not helping their chances in 2024.
War talk with Russia is heating up over the ongoing Ukraine war.  Russia is calling it a "hot conflict with the United States."  Meanwhile, the DOD is consumed with the military being a "safe space for the non-binary."  This is a total departure from reality and a very dangerous turning point for all involved.
The sick and dying from the CV19 bioweapon vax is still trending higher—much higher.  More and more are getting so sick they can no longer work.  People who "died suddenly" for no apparent reason are still stacking up in greater numbers.  Dr. Tony Fauci is now bragging about the next pandemic and says, "There will absolutely be an outbreak of another pandemic."   Has the public reached a turning point for the CV19 vax and plandemic lies?
There is much more in the 55-minute newscast.
Join Greg Hunter of USAWatchdog.com as he talks about these stories and more in the Weekly News Wrap-Up for 4.7.23.
(Tech Note: If you do not see the video, know it is there. Unplug your modem and plug it back in after 30 sec.  This will clear codes that may be blocking you from seeing it.  In addition, try different browsers.  Also, turn off all ad blockers if you have them. All the above is a way to censor people like USAWatchdog.com.)
(To Donate to USAWatchdog.com Click Here)
After the Interview:
Dr. Mark Skidmore from Michigan State University will be the guest for the Saturday Night Post.  Dr. Skidmore is proving over and over again the CV19 vax is dangerous and debilitating.  Dr. Skidmore has new academic proof, and, yet, he is being attacked viciously for telling the truth about the CV19 bioweapon/vax.