UN Global Takeover Plan Wickedness from Pit of Hell – Alex Newman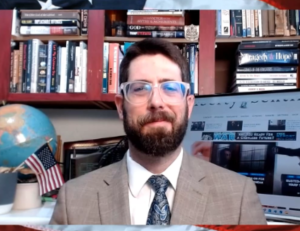 By Greg Hunter's USAWatchdog.com (Saturday Night Post)
Award-winning journalist Alex Newman, author of the popular books "Deep State" and "Crimes of the Educators," predicted at the beginning of this year that "the Deep State demons will have one crisis after another," and he was spot on.  The Deep State demons don't want to just cause chaos, but they have plans in motion to completely take over the entire planet.  The U.N. is at the top of the Deep State, and it's setting itself up to take control during any global emergency.  Newman explains, "They give no clear definition on what constitutes a 'global emergency,' and they actually say it doesn't have to be global and it doesn't have to be an emergency.  So, what happens when the U.N. Secretary General declares there is this complex global emergency? . . . . According to the document, the U.N. and the multilateral agencies will have 'primary decision-making authority.'  They give you some examples of what might constitute a global emergency.  It could be climate change.  It could be environmental degradation.  It could be a biological attack.  It could be an interruption in the flow of goods or people.  It could be a 'Black Swan event.'  In other words, it could be anything. . . . If this plan gets approved, and they are going to be talking about it at the 'Summer of the Future' event coming up in September, basically, the Secretary General would become world dictator.  This would happen anytime he announces these protocols.  It's hugely significant and completely under the radar."
It get's worse, and the Deep State global demons are attacking humanity from all angles, and people don't even know it.  Now, the U.N. is pushing "pedophilia as a human right" and wants to decriminalize sex with children.  Newman says, "'Queer Theory' was born almost 40 years ago, and the point was always to try to legalize any kind of perverted sex.  It's horrible enough that these people want to have sex with children, and it is so monstrous, but their agenda is even bigger than that.  The reason we see this incredible perversion is it is being used as a battering ram to take down family, to take down society and to take down traditional moral order.  It is quite literally wickedness from the pit of hell.  The rape of children is just one horrific symptom of that, but this is part of a much bigger agenda."
Newman says the good news is people are waking up to the fake news and want the truth.  Neman contends this is why so-called liberal news sites like "BuzzFeed" recently went out of business, and the New York Times numbers are tanking.  Newman says, "People don't want to pay money to be propagandized.  People don't want to pay money to be lied to.  Most people have no interest in reading lies. . . . People are sick of this. . . . After Trump left office, the New York Times and others are all losing subscribers very rapidly.  Meanwhile, The Epoch Times is the 4th largest newspaper in America by subscription, and it is growing very rapidly.  (Newman predicts The Epoch Times will be #1 by the end of 2023.)  So, this is encouraging.  We started seeing this in the 2016 election.  All the fake media, CNN, New York Times, ABC and Washington Post were getting less views on YouTube than Alex Jones.  With all those rigged algorithms and shadow bans, they could not stop people from tuning out the mainstream media, the fake media, the dying legacy media and turning to alternative media.  This is great news, and I think we are winning the narrative battle."
There is much more in the 40-minute interview.
Join Greg Hunter of USAWatchdog.com as he goes One-on-One with hard hitting journalist Alex Newman, founder of LibertySentinel.org and author of the book "Deep State" for 4.22.23.
(To Donate to USAWatchdog.com Click Here)
(Tech Note: If you do not see the video, know it is there. Unplug your modem and plug it back in after 30 sec.  This will clear codes that may be blocking you from seeing it.  In addition, try different browsers.  Also, turn off all ad blockers if you have them. All the above is a way Big Tech tries to censor people like USAWatchdog.com.)
After the Interview: 
Newman's website is called LibertySentinel.org.  There is lots of free information and articles.
To get a copy of "The Great Reset" DVD, click here.
To get a copy of "Transhumanism: War on Humanity & God" DVD, click here.
For a copy of Alex Newman's popular book "Deep State," click here, and for "Crimes of the Educators," click here.
To support Alex Newman with electronic donations, click here.
You can also use Snail Mail below:
Liberty Sentinel Media, Inc.
11767 S. Dixie Hwy #336
Pinecrest, FL  33156