Unconstitutional Trump Impeachment, Deep State Threats, Rich Buy Gold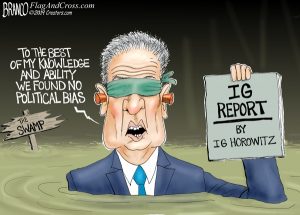 By Greg Hunter's USAWatchdog.com (WNW 414 12.13.19)
The impeachment of President Trump continues even though not a single specific crime has been identified by House Democrats. The two articles Dems settled on are "Abuse of Power" and "Obstruction of Congress." Neither is a proper reason to impeach a President according to the U.S. Constitution. Speaker Pelosi says House members should vote their conscience. Will the House vote to impeach with phony unconstitutional charges and zero crimes committed by President Trump? Yes, but will it pass? We are going to find out before Christmas.
Many people say they do not expect charges to come from the bombshell IG Report that outlined many crimes and failures in the Trump/Russia collusion hoax and FISA abuse. Many also say this was a failed coup attempt by Democrats and the Deep State. If no real charges were coming, the deepest of Deep State players, former AG Eric Holder, in the Obama Administration would not be out in front with an Op-Ed in the Washington Post criticizing AG Barr and questioning the reputation of Barr's top prosecutor. Somebody is very worried, and Holder's toxic Op-Ed is a big tipoff.
The rich are buying gold. This revelation leaked out in an investment note to clients from Goldman Sachs. The note cites "fear driven demand." I thought the economy was great, but Goldman Sachs must believe otherwise.
Join Greg Hunter of USAWatchdog.com as he gives his take in the Weekly News Wrap-Up.
(To Donate to USAWatchdog.com Click Here)  (Update: This video was finally monetized but not until more than 30,000 views without it.)
After the Wrap-Up:
Former CIA Officer and counter-intelligence expert Kevin Shipp will be the guest for the Early Sunday Release.  There is plenty to talk about in Swampland D.C.