Vax Failure, State Sanctioned Pedos, Economy Still Tanking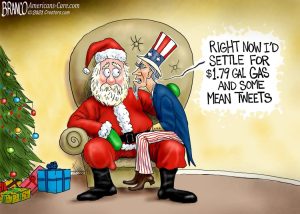 By Greg Hunter's USAWatchdog.com (WNW 507 12/10/21)
I cannot believe people are this stupid.  The vax injections have clearly failed to stop CV19 or stop the spread of CV19, and yet people are lining up to get more of what does not work.  Granted, the continuing MSM propaganda blitz is very powerful and convincing.   Still,  people already double vaxed can't wait to get a so-called booster because they are no longer "fully vaccinated," according to the CDC.  Now, the CEO of Pfizer is telling them the third shot will not work because he is already saying, "I Think We Will Need a Fourth Dose."   This is screaming scam and showing the death vax has failed bigtime.  What the injections are good at is causing blood clots, heart problems, miscarriages auto immune disease and a host of other ailments along with way more deaths and permanent injuries than all other vaccines combined in the more than 30 year history of VAERS (Vaccine Adverse Event Reporting System).  Get that booster!!!
It's not easy getting information on the ongoing sex predator trial of Jeffery Epstein's co-conspirator Ghislaine Maxwell.  Twitter has shut off one account right in time for embarrassing information about how the FBI knew about the sex pedo operations with young girls and did nothing.  We do know lots of elites were on Pedophile Island, but the flight logs are being redacted from public view.  Was this really a state sanctioned pedo operation for blackmail or just one creepy guy and girlfriend who sexually abused children?
The Fed is freaking out over the inflation numbers that keep growing.  Looks like we have almost 7% year over year inflation, and the big question is will the Fed raise rates and stop the easy money policies?  If they keep printing, the economy blows up, and it they pull back, the economy blows up.  So, what flavor of collapse would you like?  That is the choice, and the choice is coming sooner than you think.
Join Greg Hunter of USAWatchdog.com as he talks about these stories and more in the Weekly News Wrap-Up for 12.10.2.  (There is much more in the video presentation.)
(To Donate to USAWatchdog.com Click Here)
After the Wrap-Up:
Top trends researcher Gerald Celente, publisher of "The Trends Journal," will be the guest for the Saturday Night Post to give us an update and a preview of what is coming in 2022.  Spoiler alert: Buckle up, it's going to be rough ride.
If you are looking to buy physical gold and silver coins, check out our sponsor Discount Gold and Silver Trading. Ask for Melody Cedarstrom, the owner, at 1-800-375-4188.