Violent Desperate Dems, Biden's Disaster Platform, Economic Update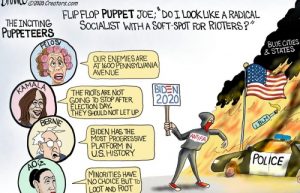 By Greg Hunter's USAWatchdog.com (WNW 447 9.4.2020)
Dr. Paul Craig Roberts said it best this past week on USAWatchdog.com.  Dr. Roberts said, "You have to assume the Democrats believe they have already lost, and so they will figure out how to steal it."  One of the tactics is outright violence and threats.  Dems boast it will continue if Biden does not get elected to the White House in November.  Voter fraud by mail is another ploy Dems are trying, but it's not going to work.
You want to know why Biden is always attacking President Trump?  It keeps him from talking about the disastrous Democrat plans for the nation that will dramatically raise your taxes, defund the police and put illegal aliens above citizens of America.  It's also all sorts of free stuff for Dem voters, and you are going to pay dearly for it.
The economy is going so bad that the latest 881,000 new unemployment filings is good news.  All they can say is at least it's not another million unemployed.  Nearly 59 million Americans have filed for first-time unemployment benefits in the last 24 weeks.  Maybe that's why the stock market rolled over and plunged more than 800 points on Thursday alone.  More downside to come?  The answer is yes.  Greg Hunter will explain why.
Join Greg Hunter as of USAWatchdog.com as he talks about these stories and more in the Weekly News Wrap-Up.
(To Donate to USAWatchdog.com Click Here)
After the Wrap-Up: 
Former CIA Officer, counter-terrorism expert and whistleblower, Kevin Shipp, will be the guest for the Saturday Night Post.  He will give his analysis on the state of the country with just 60 days before the November election.  Will the violence continue?  Will it get worse?