WikiLeaks Documents Coming From US Intelligence Not Russia, MSM & Democrat Party Dying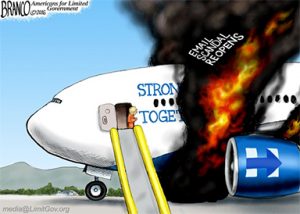 By Greg Hunter's USAWatchdog.com  (WNW 260 11.4.16)
There are numerous reports on the alternative media of documents being given to WikiLeaks to counter the corruption and lawlessness of the Obamas and Clintons. AG Loretta Lynch has been reportedly blocking an FBI investigation into the Clinton Foundation that many say is a "global charity fraud" and a "huge criminal conspiracy."  The leaked emails and documents show corruption between the Justice Department and Hillary Clinton.  These documents and emails also show a grand cover-up of the true treason that has taken place in the highest offices of the U.S. government.
The mainstream media (MSM) have been committing fraud on shareholders and the public by holding themselves out as "news organizations" when, in fact, they are functioning as propaganda for the Clinton campaign. It's no surprise that the nation's biggest newspaper, USA Today (GCI), has had its share price cut in half in the last a year.  Reuters is laying off 2,000 people, and quarterly profits at the New York Times have fallen by 95%.  The public is not buying the lies and propaganda the MSM is selling for the Democrats and the Clinton Campaign.
Internet researcher Clif High says both the MSM and the Democrat Party are dying. He says by 2020, the Democrat party will not exist, and the MSM will be well on its way to its death.
Join Greg Hunter as he talks about these stories and more in the Weekly News Wrap-Up.
After the Wrap-Up:
Bill Holter and Jim Sinclair of JSMineset.com  will be interviewed on the Early Sunday Release.  They talk about the post 2016 election world.  They contend it is going to be a dangerous and scary-especially for the unprepared.