MSM Makes Trump a Devil, Stocks Are Sky High-Again, US Drought Moves East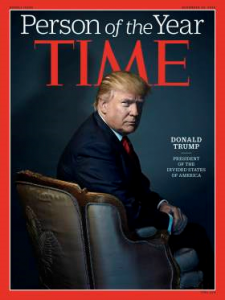 By Greg Hunter's USAWatchdog.com (WNW 263, 12.09.16)
Time Magazine chose President-Elect Donald Trump as the "Person of the Year." Is that the mainstream media (MSM) trying to make amends for the way they treated Trump?  Maybe, but it appears Trump has devil horns by the way Time laid out the cover.  It says it was an inadvertent mistake, but this is a magazine company with 90 "Person of the Year" covers.  A professional magazine company that makes a mistake that big on an incoming President that the liberal biased media tried to destroy sounds disingenuous to me.
Stocks are hitting the 27 to 28 PE ratios again. This is what the price to earnings were the last time the markets melted down in 2008.  Look out for a big correction.
For the first time in years, the State of California has one small part that is not in any drought. That's the good news.  The bad news is there is still a big part of the state that is still in a very extreme drought, and now, that drought has moved east to the southeast U.S. and is centered over Georgia.  Some places have gone 100 days without rain.  There is no end in sight to either drought.
Join Greg Hunter as he talks about these stories and more in the Weekly News Wrap-Up.