Obama Chaos Before Leaving Office, Obama Punishes Russia Hacking & Economic Warning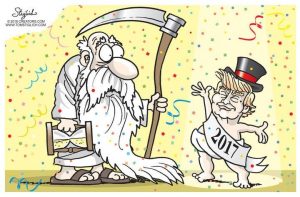 By Greg Hunter's USAWatchdog.com (WNW 266 12.30.16)
The Obama Administration basically stabbed Israel, its top U.S. Middle East ally, in the back by not stopping a UN resolution that makes the Western Wall occupied Palestinian territory. It also makes building Israeli settlements in the West Bank an international crime.  This is all taking place less than thirty days before Trump's inauguration.  Is Obama creating as much chaos as possible before he leaves office?  I say YES!!!
On another front, President Obama has expelled 35 Russian officials from the U.S. because of allegations of Russian interference in the 2016 presidential election. The Russians say Obama is "paranoid" and denies the charge.  Now, the Kremlin is vowing retaliation for expelling its diplomats and seizing Russian property in the U.S.  Meanwhile, Russian President Vladimir Putin has negotiated a ceasefire in Syria without any involvement from the Obama Administration.
There are big flashing warning signs with the U.S. stock market and bond market. According to Gregory Mannarino of TradersChoice.net, the long end of the yield curve is flattening out, and that has always signaled trouble in the past.  The same pattern happened just before the dot com crash and the 2008 financial meltdown.  Mannarino says look for a horrible start to 2017 in the markets just as bad, or worse, than the beginning of 2016—which was the worst start ever for the Dow and S&P.
Join Greg Hunter as he talks about these stories and more in the Weekly News Wrap-Up.