We the Cronies vs. We the People, Hillary Aid Granted Immunity, How MSM Lies to Help Establishment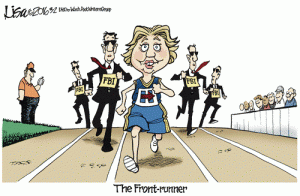 Greg Hunter's USAWatchdog.com (WNW 229 3.4.16)
The attacks on Donald Trump come down to one simple fight. It's "We the People" against "We the Criminal Crony Class."  Forget calling them the "establishment" because they are, in fact, a bunch of law breaking weasels in BOTH parties.  Democratic Presidential contender Bernie Sanders would be getting much the same treatment as Donald Trump if he would have done as well as Trump on Super Tuesday.  Examples of the crony class include the law breaking bankers convicted of fraud with LIBOR, FOREX and mortgage fraud to the tune of trillions of dollars, and yet nobody EVER goes to jail.  I love how the so-called conservatives sit and say nothing while their crony donors break law after law and only pay fines.  It's the same with the phony income inequality Democrats that see the fraud and say nothing.  Bernie Sanders is resonating with young Democrats in part because he wants to clean up the banks that Hillary Clinton is getting millions of dollars from.  This is the crony class I am talking about.  You could not get more pathetic than the hit job failed candidate Mitt Romney gave to Trump this week.  The Trans-Pacific Partnership (TPP) is another example of crony capitalism.  This helps Democrat and Republican cronies alike, and that's why both parties pushed this through.  When you hear Trump wanting to unwind trade deals like the TPP, he wants to do it because it helps "We the People."  This is what he means by "Making America Great Again."  The establishment, or crony class, is scared to death that not only the blood sucking will be will stopped, but these traitors and criminals will be held responsible.
The crony class is being aided and abetted by the mainstream media (MSM). Here's the day after Super Tuesday and both candidates gave speeches.  Clinton wants to "Make America Whole," whatever that means.  Trump wants to "Make America Great Again," and vows to end the incompetent deal making and crime holding us all back.  Trump said that "Hillary should not even be allowed to run. What she did was criminal.  If she is allowed to run, it will be a sad day in America."  He was referring to her private, unprotected email server where she, no doubt, jeopardized national security.  Did the shills at the MSM cover this important quote after a landslide win by both candidates?  No, they did not!  Now, it's reported the Justice Department just gave immunity to the staffer that set up Hillary Clinton's private email server.  That means this is now officially a criminal investigation.  Did the USA Today put this front page story on the front page?  NO, it did not.  The Washington Post sure did earlier this week.  When I searched the USA Today website, it was nowhere to be found.  It certainly was not on the front page and it IS front page news.  This is how the old timey MSM lies by omission.  It ain't going to work.  As I have said for many months, Clinton will be indicted.
Another way the MSM lies to distort the real picture is by what it reports about the economy. The latest comes from headlines created by crony Warren Buffet.  If it were not for massive bail-outs, his investment company would have been decimated.  Here's one that says Buffett is "Bullish" on U.S. business.  Here's one that reads "Manufacturing's Pain starts to Ease."
This is total BS and spin just like the so-called "recovery" story they have been pushing down our throats. Week after week, I have no problem showing you how the real economy is doing in the headlines, and it's not good.  That's not spin–it's fact backed up by data.
Join Greg Hunter as he talks about these stories and more in the Weekly News Wrap-Up.