Liars: Cruz, Bush, Kasich Do Not Endorse Trump, Hillary's Mentor is Communist, Phony Economy Update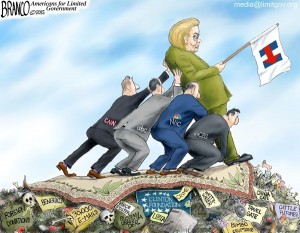 By Greg Hunter's USAWatchdog.com (WNW 247 7.22.16)
Even though former presidential candidates Ted Cruz, Jeb Bush and John Kasich signed a pledge to support the GOP candidate for president, none of them are doing it. Cruz gave a speech at the Republican Convention in Cleveland and was booed off the stage for not endorsing Trump. Some say this is helps Hillary Clinton and calls these former candidates selfish and liars.
Dr. Ben Carson brought up presumptive Democratic presidential nominee Hillary Clinton at the GOP Convention this past week. He said one of Hillary's "mentors" and "heroes" is Communist/Marxist Saul Alinsky. The Washington Post (WaPo) was so freaked out about this fact it tried to explain it away as some sort of misguided guilt by association. This is very odd because even the WaPo's own article says that "Clinton also brought Alinsky to Wellesley in 1969 to deliver a speech. And in her thesis, she refers to his 'compelling personality' and his 'exceptional charm.'" It actually went well beyond a simple association. Alinsky knew Hillary Clinton well enough to offer her a job, but she turned him down because she wanted to change government from the inside. A lover of Marxism and Communism running for President of the United States of America, a Constitutional Republic. You can't make this stuff up. This election is not just Democrat vs. Republican. This is Tyranny vs. Freedom, and nothing less.
Stocks are sky high, and yet, real earnings are bottom bouncing. What gives? Some say it is central banks propping up the financial system to try to stave off a crash as long as possible. Will it work? Gregory Mannarino of TradersChoice.net says it may have worked so far, but we are "nearing another major top and are in for another very big crash."
Join Greg Hunter as he talks about these stories and more in the Weekly News Wrap-Up.