WNW 194-Secret Trade Deals, Not Serious About Stopping ISIS, Obama Care and Economy in Trouble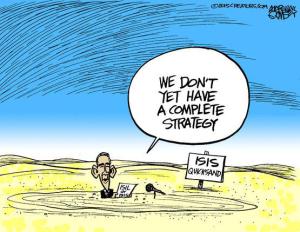 By Greg Hunter's USAWatchdog.com  (6.12.15) 
The Republicans are pushing trade agreements, but they are secret.  Congressman Paul Ryan says "We the People" do not get to know the secret details until Congress votes them through.  On the trade packages in Asia and Europe, Ryan said, "It's declassified and made public once it's agreed to."  Is this his Republican version of the Nancy Pelosi "We have to vote for it to see what's in it"?  You know it's a bad deal for everyday Americans when this sort of trade deal is opposed by Democrats, such as Senator Elizabeth Warren and Republican Congressmen Duncan Hunter.  Hunter even wrote Ryan a letter asking him not to vote on the deal until all Americans know what's in the agreements.  In other words, NO SECREAT TRADE DEALS.  Every Congressional office Republican and Democrat should be called to tell them to vote "no" on secret deals.  If it was such a good deal and Republicans were so proud of what they were doing, why would it be a secret?  This is why I say Democrats and Republicans just take turns ripping us off.
Looks like the President is going to send another 450 troops to train Iraqis to fight ISIS.  Listen, the Obama Administration is not serious.  Months ago, a top military expert said in order to kick ISIS out of Iraq, there would need to bae 80,000 well trained troops.  450 is drop in the bucket.  Also, ISIS gets a lot of its funding from selling oil on the black market.  Why are those wells allowed to pump oil in Syria and Iraq that are under ISIS control?  Those can't be bombed?  Please, they are not serious.
The G7 met this week, and Russian sanctions are still in place, and do not look like they will be removed anytime soon.  The Ukraine situation is at a standstill.  The G7 also scolded China on building islands in the South China Sea, and again, the G7 is all bark and no bite.
In the here-we go-again file, here is a headline that reads "Job Openings Jump to Record."  I called economist John Williams, and his first comment was "nonsense."  Williams told me they count each new job opening multiple times.  He also says that when you drill down, the majority of jobs are part-time, or 29 hour a week jobs.  Thank you Obama care.  Williams also points out we are still 800,000 full time jobs short of the pre 2008 crisis.  So, we are still not back to the number of jobs we had 7 years ago.  I'll have Williams back on in the next few weeks.
Speaking of Obama Care, it is looking like the Supreme Court is going to rule against the Obama Administration on subsidies for more than 30 states.  People were only supposed to get them if they set up an exchange, and 34 states did NOT set up an exchange.  This could end Obama Care, or at least severely limit it.  I expect Obama to continue to give out the subsidies if the High Court rules against him.  This will give us more chaos and set up yet another Constitutional crisis.
Here's another piece of news on the stock market from Gregory Mannarino.  Look at this chart of the stock market for the S&P 500.  It starts in 1993 and goes up to today.  If this picture doesn't say "run Forest run," I don't know what does.  Mannarino says the higher the high the lower the low.  Even though we had a recovery in the stock market this week, Mannarino says we are at the high, which is way higher than 2008, and the only major move left is down—way down.  He says traders are shorting the market, and they will yank money out of the market when it falls.
Join Greg Hunter as he covers these stories and more in the Weekly News Wrap-Up.