Bipolar Ionic Air Purifier Kills Covid & Spike Proteins – Weston Warren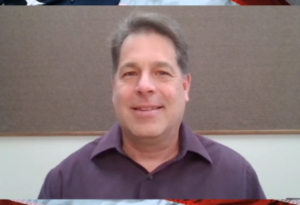 By Greg Hunter's USAWatchdog.com
Scientist and inventor Weston Warren showed off his germ killing and air purifying technology that took nearly 20 years to perfect.  It's bipolar ionic air purification that kills germs, viruses and mold to name a few.  This includes the deadly spike proteins shed by people who took the CV19 bioweapon/vax.  Warren nearly sold out of his air purifying technology after the last USAW interview, and he is here for an update with overwhelmingly positive feedback from hundreds of people.  In one story, Warren says, "A six-year old had severe allergies. . . .  the grandparents saw the USAW interview back in February and bought one.  They put it in his room, and for the first time ever, he got an entire night's sleep.  He did not wake up congested.  This happened the next night and the following night, and it kept working.  Now, they tell me that when the six-year-old is ready for bedtime, he says where is my blue light?  I need my blue light, and he has it right next to his nightstand in his bedroom.  He has tremendous relief.  The mother (who was very skeptical), is a surgeon in Michigan and is now convinced because she has seen in real life what it has done for her son.  They have bought many units."
Warren says his technology has been hidden and blocked by dark powers.  He thinks it's because it kills viruses like Covid and destroys spike proteins shed by the CV19 vaxed.  Warren says, "Just like any type of bacteria or virus . . . you will have protein stems sticking out of the capsid.  This technology is able to sheer off these protein stems because of the hydrogen oxygen charged state. . . . When it pulls off one of these hydrogen atoms, it blows off.  There is a like a little firecracker, an electrical discharge, and it puts a pinhole in the capsid.  Anytime you can puncture the membrane of a bacteria or virus, it is compromised, and it only takes one.  We do 60 or 70 holes in the capsid membrane, and now it's neutralized.  Spike proteins get bombarded anytime one of our products is running in a room, and that virus or bacteria does not stand a chance.  It is stopped in its tracks."
The company slogan is "Don't just trap germs, kill them naturally."
Warren says he is already seeing supply chain problems with components such as rare earth metals and other parts he needs to produce his bipolar ionic air purifiers.  Warren says, "This is hard to say . . . I think the products we have on hand right now might be able to service USAWatchdog clientele and their families, and that's it.  I won't have anymore.  I am not advertising with anyone else.  I can't make enough units. . . . We are heavily reliant on China for rare earth metals because they have such a monopoly."
There is much more in the 32-minute interview.
Join Greg Hunter as he goes One-on-One with Weston Warren, scientist and inventor of the "CarryiOn" air purifier and many other bipolar ion air purification products for 4.19.23
(To Donate to USAWatchdog.com Click Here)
(Tech Note: If you do not see the video, know it is there. Unplug your modem and plug it back in after 30 sec.  This will clear codes that may be blocking you from seeing it.  In addition, try different browsers.  Also, turn off all ad blockers if you have them. All the above is a way to censor people like USAWatchdog.com.)
After the Interview:
There is lots of information on WestonScientificllc.com.
Click here for all the Weston Scientific bipolar ionic air purifier products: