Everything is a Lie, Ruble Rumbles, Inflation Rising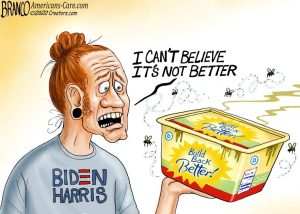 By Greg Hunter's USAWatchdog.com (WNW 522 4.1.22)
If you watched the mainstream media (MSM) news lately, you might be noticing how everything they told you is a huge lie.  The MSM said Hunter Biden's laptop with treasonous deals and nasty sex photos is nothing more than Russian disinformation.  LIE.  We were told over and over again by the MSM, that the so-called dossier on Trump with tawdry tales were true or mostly true. Total LIE.  The MSM told all the CV19 vax is safe and effective.  Huge LIE and the MSM was paid $1 billion to push this Deadly LIE.  The MSM said, and is still saying, Ivermectin is not effective against CV19.  Another Huge LIE!!  We are drowning in a sea of lies, and the MSM is happy to be rowing the boat of fake news.
The so-called sanctions put on Russia by the west were supposed to cripple them and kill the Russian ruble.  I told you this would backfire big time, and it has.  Putin is forcing countries to use the Ruble when buying oil, natural gas, wheat and everything else it sells.  There is a new competitor to the dollar, at least when buying Russian goods and resources.  Will the dollar take a hit as other countries no longer need it?  I say yes.  After getting clobbered on sanction news, the Ruble is back to where it was when the sanctions were imposed.  Now, inflation has been turbo-charged in the west, and that is a huge backfire in my book.
Speaking of inflation, have you filled up your vehicle lately?  How about buying some food at the grocery store?  The Biden/Obama Administration would like you to think that the massive inflation you are experiencing is all Russia's fault.  That, too, is a huge lie.  We are getting this because of disastrous policies instituted by the Biden Administration.  Biden and crew want to "Build Back Better" after they tear and burn your world down.  It won't be better, and the evil globalists backing Biden will be in total control if they get their way.
Join Greg Hunter of USAWatchdog.com as he talks about these stories and more in the Weekly News Wrap-Up for 4.1.22.
(To Donate to USAWatchdog.com Click Here)
After the Interview:
Award winning journalist Alex Newman will be the guest for the Saturday Night Post.  Every problem we face in America can be traced right back to the Deep State.  Newman, who wrote a popular book called "The Deep State," will tell you how to identify our enemies and how to fight them.