Middle East War, Global Market Crash, Oregon Stand-Off and Guns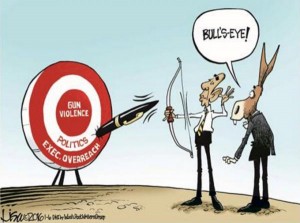 By Greg Hunter's USAWatchdog.com WNW 221 1.8.15

A Saudi Prince is saying war is unlikely with Iran, but that doesn't seem believable especially after Iran burned Saudi Arabia's embassy in Tehran. Iran burned the embassy after Saudi Arabia executed a Shia imam. Then, there are conflicting reports of Saudi bombing Iran's embassy in Yemen. At its core, this is the age old problem of Sunni Muslims opposed to Shia Muslims. That is Saudi Arabia, Sunni, against Iran which is Shia. As predicted by yours truly back in July, the Iranian nuclear so-called deal has dramatically increased the chances for war. Of course, Iran has not and will not sign anything, and that means there is no real deal. There is just some empty promises and $150 billion coming from the Obama Administration. It seems Iran can do nothing to derail them getting this huge amount of cash. Iran can shoot missiles at our aircraft carriers in the Persian Gulf or announce a new ballistic missile test. Nothing will stop Kerry and Obama from calling this huge scam a success, and that is what has the entire Arab world on edge. It sure looks like Obama has changed sides. No matter what the official reports are, I believe both Iran and Saudi Arabia already have some nuclear weapons, and it looks like war is a certainty on the present trajectory.
China is tanking this week and dragging down the global markets. This is the worst start to the U.S. stock market—ever. It was down nearly 1,000 points in just the first four trading days. Gregory Mannarino of TradersChoice.net called the stock market top for the Dow back in May, and his prediction is spot on. There is no wonder why the global economy is tanking. One of the biggest signs of trouble can be found in the Baltic Dry Index. It is at all-time lows. It is actually 20% below its all-time old low, and if shipping is sinking, so is the global economy. There is one headline after another that is screaming recession and depression, and yet you are told by the financial talking heads to invest for the long term. Total BS and they know it.
Obama took executive action on guns this week and increased background checks without the approval of Congress. The President cried, which I thought was either disingenuous or maybe even unstable. There were no tears for the victims of Fort Hood, or Paris, or San Bernardino, which, by the way, were all murders by radical Muslim terrorists. The people that burned down Ferguson and Baltimore needed "space," but the people who are at the standoff in Oregon are the violent extremists. The man who said health care would be much cheaper and concocted the biggest policy lie in U.S. history, now says he doesn't want to "take our guns." I don't believe him and you shouldn't either.
Join Greg Hunter as he looks at these stories and more in the Weekly News Wrap-Up.