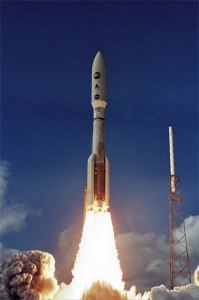 Greg Hunter's USAWatchdog.com  (updated)
The government released a nasty little inflation rate surprise yesterday.  Prices increased .4% in January, which was 33.3% higher than the expected .3% increase.  It should come as no surprise to anyone who fills up at a gas station or shops in a grocery store that prices are on a tear.
The Bureau of Labor Statistics (BLS) report said, "Increases in indexes for energy commodities and for food accounted for over two thirds of the all items increase. The indexes for gasoline and fuel oil both increased in January, continuing their recent strong upward trend. The index for food at home posted its largest increase in over two years with all six major grocery store food group indexes rising."  (Click here for the complete report from BLS.) 
According to the latest report from economist John Williams at Shadowstats.com, consumer prices in January rose to 9.1% annually if inflation was computed the way BLS did it in 1980. ( Shadowstats.com methodology strips all accounting gimmicks out of the equation.)  Consumer prices (CPI) are not the only thing rising.  According to Shadowstats.com, producer prices (PPI) are also staging steep increases.  Williams says, "The monthly PPI finished goods increase reflected the Fed's dollar-debasement-induced upside pressures on gasoline prices, although subdued reporting of food inflation continued to run counter to anecdotal evidence of Fed-induced spikes there.  The 0.5% "core" PPI inflation rate for January (up from an unrevised 0.2% in December) also was an upside surprise for the markets, as the effects of higher oil prices spread into broader areas of economic activity."
To offset the bad news on inflation, retail sales gains reported this week seem to show consumers are still keeping the economy going.  Here's the way it was reported at Marketwatch.com, "Sales at U.S. retail stores rose in January for the seventh straight month, but the increase was the lowest since last summer, government data showed Tuesday. . . .Retailers' sales rose 0.3% last month as consumers spent more on gasoline, autos and online goods, the Commerce Department reported. It was the smallest increase since last July, however." As I have been warning, this is the government's distorted way of reporting inflation as growth.  In reality, there was no increase in sales at all last month.  Inflation in prices of .4% more than cancels out .3% sales growth.  This is clearly a setback for the economy and not a step forward.  (Click here for the complete Marketwatch.com story.)
It's apparent the mainstream media (MSM) tends to paint a much rosier picture than reality.  And, if the MSM doesn't like a topic, even if it is tremendously newsworthy, then it simply ignores it.   How else could a story not get coverage, where everything sold in America went up in price by nearly 2% since Christmas!  Do you think this information came from some crazy website in the blogosphere?  No way!  It came from the "Billion Prices Project" (BPP) at MIT Sloan School of Management, and it is totally legitimate science.   According to the MIT website, "our data are collected every day from online retailers using a software that scans the underlying code in public webpages and stores the relevant price information in a database. The resulting dataset contains daily prices on the full array of products sold by these retailers. . . . It is updated on a daily basis and leveraged to estimate annual and monthly inflation.   This index is not designed to forecast official inflation announcements, but to provide real-time information on major inflation trends." (Click here to see the BPP interactive chart at MIT.  It's pretty cool.)
Phil Davis from Philstockworld.com wrote his own story about the parabolic short term spike in prices that the BPP revealed.  Davis said in a post this week, "Yet the Chairman of the Federal Reserve Bank of the United States of America tells us over and over and over again that it is not happening.  He tells us that inflation was down in 2010 from 2.4% in 2009 to 1.2% last year and that he sees no inflation.  In fact, he is basing his mathematical models on it and directing our nation's policies on this basis and he is conducting the most dangerous monetary experiment in the history of the Universe – ALL BASED ON HIS PREMISE THAT INFLATION DOES NOT EXIST!   (Click here for the complete Philstockworld.com post.  It is excellent.)
We all know here in the real world that inflation is alive and well.  The sad thing is until the Fed stops its money printing, prices of just about everything we consume will increase.  Inflation is guaranteed to hurt the people worst who can afford it the least.