Jonathan Cahn Deep Dives on Gay Marriage and Joe Biden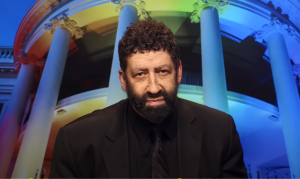 Greg Hunter's USAWatchdog.com 12.27.22
I got an email this evening from my friend, brother, six-time, best-selling author and renowned Bible expert Jonathan Cahn.  Here is what it said, "Hi Greg, I hope you're doing great.
We just posted this today – Message to Joe Biden – As it's prophetic, I thought of you.
If you're led, feel free to spread, use, or post however you're led – But no obligation! Just if and however you're led.
Blessings!
Jonathan"
It was so good, this video "led" me to embed this terrific Jonathan Cahn commentary on the recent passage of the "Respect for Marriage Act."  It was recently signed into law by Vice President Joe Biden at a big White House party.  Hope you enjoy Cahn's analysis as much as I did.
(To Donate to USAWatchdog.com Click Here)
After the Interview:
See you Friday for the Weekly News Wrap-Up.  It will be a shorter version because of the New Year holiday.  I also have a new guest on the Saturday Night Post with a huge court case at the U.S. Supreme Court.  This case could shake the country and the world.