Lies Don't Last, Woke Broke, Inflation Spiral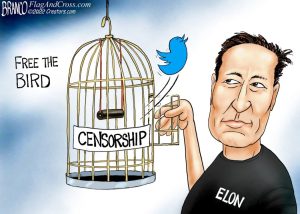 By Greg Hunter's USAWatchdog.com (WNW 524 4.15.22)
Christianity has lasted more than 2,000 years because Jesus spoke the truth.  The Bible is based on the truth, and the truth lasts for eternity.  On the other hand, lies don't last.  We are seeing the lies being exposed in politics, finance, medicine, media and the military.  When lies are being revealed, it can lead to chaos and calamity as evil fights to keep the truth hidden, but it can't.  Every problem we are seeing today has a lie behind it, and the revealing of the lies is going to be painful.
The business world has a saying and that is "get woke and go broke."  Meaning wokeness leads to irrational and illogical decisions that cost money in the real world.   Like Twitter taking off President Donald Trump off its platform in January 2021 when he had 88 million followers!!  Stupid woke move.  Hope Musk takes over Twitter.  Look at the airlines struggling to get staff to conduct air travel after forcing the vaccination of much of their employees.  Thousands of flights have been cancelled over the past several months because of staffing issues not the weather.  You are seeing the "true cost of wokeness" hitting home at the gas pump and in shortages.  The Woke culture is failing.  The only question is how far will our world fall before it is stopped?
Some are saying that inflation has peaked, and it's going down from here.  That is wishful thinking as long as war is being pushed in Ukraine and Russia.  Sanctions are getting more intense, and prices are going up with them.  On top of that, the woke green revolution is causing energy shortages, and the Biden Administration has war on fossil fuels.  Expect the inflation spiral to keep increasing, and you simply cannot blame everything on Russia.
Join Greg Hunter of USAWatchdog.com as he talks about these stories and more in the Weekly News Wrap-Up for 4.15.22.
(To Donate to USAWatchdog.com Click Here)
After the Interview: 
Catherine Austin Fitts, publisher of The Solari Report, will be the guest for the Saturday Night Post.  She will give us an update on the Evil Deep State Plans and how we can fight back.