Massive Money Change, Massive Vote Fraud & Massive Inflation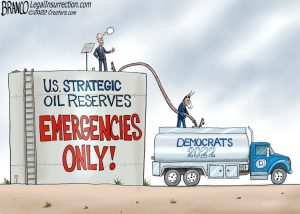 By Greg Hunter's USAWatchdog.com (WNW 523 4.8.22)
Most people do not realize this, but a massive change in money and finance is underway, and at this point, is unstoppable.  Russia invaded Ukraine, and the outcome was sanctions that shut off Russia from doing business in dollars.  The Obama/Biden Administration was out to kill Russia financially, and it appears they have killed the dollar instead.  Russia is demanding rubles for its energy, and that means less dollars needed.  Other countries are shedding the dollar to do business with Russia, namely China and India.  Those dollars are going to come home, and when you have a lot of something flooding, in the price goes down.  In this case, the buying power of the dollar is going to continue to go down.  Letting some oil out of America's Strategic Petroleum Reserve is a drop in the bucket, and it's not going to reset gasoline or diesel fuel prices lower.  Don't expect anything to go back to the way or the price it was.  Count on prices going higher, and I mean much higher.
The massive vote fraud story is not going away.  It was simply too big and too many fraudulent ballots in too many states that happened on the night of November 3, 2020.  The Democrats wanted this story to go away a year ago, but just the opposite is happening, even though FOX News and the rest of the corrupt media wants to ignore this massive constructional fraud against "We the People." At CPAC, the battle cry was "move on."  Voter fraud should be President Trump's top issue because it happened and is the reason why the country is in deep trouble with the Obama/Biden fraud Administration.
The massive inflation you are seeing everywhere is here to stay.  Sanctions against Russia are here to stay.  The Ukraine war is here to stay, and this inflation is not only here to stay, but will no doubt get worse, harming the poorest of the people in the world.  Our leaders should be kicked out of office on both sides of the Atlantic because it is them who did this damage and NOT Russia, Russia, Russia.
Join Greg Hunter of USAWatchdog.com as he talks about these stories and more in the Weekly News Wrap-Up for 4.8.22.
(To Donate to USAWatchdog.com Click Here)
After the Wrap-Up: 
Bo Polny, Biblical cycle expert and analyst, will be the guest for the "Saturday Night Post."  Big things are coming in the next few months and will explain in detail how you should get ready and prepare for what Polny calls "the biggest wealth transfer in world history."
If you want to read "California's Plan: Post-Birth Abortion" story in detail, go to BrianSussman.com.  It's a very good read that will make your blood boil.
One final thought about Rob Kirby:
Our friend and Brother Rob Kirby passed away Sunday April 3, 2022.  Rob was a good man.  He cared about people, and he was righteous about it.  Rob was a regular on USAWatchdog.com.  He had deep experience in finance, derivatives (at global bank in Toronto in the 1980's and 1990's) and precious metals.  He had a successful newsletter called KirbyAnalytics.com.   Rob was the only person I know that talked extensively about the Exchange Stabilization Fund (ESF) in the USA.  Rob long contended that the ESF was key in propping up the U.S. dollar and the U.S. Treasury market.  In short, the ESF was the facilitator of the financial fraud and Ponzi scheme we are living in right now. Rob did many fantastic interviews for USAWatchdog.com, but I think his last was his very best.  The day I did this interview, my wife asked me, "How did it go?"   I told her, "It was fantastic!  I mean Hall of Fame stuff."  I think I have the last video interview of Rob Kirby.  We did it this past February 2022.  Please click here to see Rob Kirby's Hall of Fame final interview.