Middle East Chaos &War, Clinton Email Woes, Planned Parenthood Update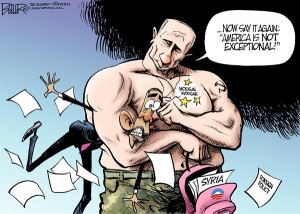 By Greg Hunter's USAWatchdog.com  (WNW 210 10.02.15)

The Middle East is spiraling into chaos and war at an alarming rate. It went from a war of words between President Obama and President Putin at the UN on Monday to the Russians bombing targets in Syria just a few days later. The Russians say they are fighting terrorism, and the U.S. says Russia is propping up the Syrian government, and it is bombing the CIA backed so-called moderate rebels. Russia has sent the world's biggest nuclear armed submarine to the coast of Syria. It reportedly holds some 200 nuclear warheads, and its missiles have more than a 6,000 mile range. It looks like the Russians are in it for the long haul and are drafting 150,000 into the Russian military. Ash Carter, U.S. Defense Secretary, says the Russian plan is "doomed to fail." I have been saying for years the Russians were not going to allow Assad to be removed from power. It has a strategic port on the Syrian coast in Tartus, and it has spent billions of dollars retrofitting it for nuclear armed ships and subs. Obama looks like a buffoon and failure on the foreign policy stage. Putin looks like he is taking over, and there is not much President Obama is going to do about it.
Meanwhile, Iran has already sent hundreds of troops to Syria. The goal has always been to prop up the Assad government, and the Iranians (Shia) are going to go after Sunni Muslims and terror groups in both Syria and Iraq. This is going to be a very bloody turn for the Middle East. This is going to send the war prospects into hyper-drive as Sunnis from around the region will flock to go in to fight Russia and Iran.
As if there is not enough chaos in the Middle East, Palestinian leader President Mahmoud Abbas says he will no longer abide by any of the peace deals with Israel. Abbas is blaming Israel, which he calls an "occupying power," for the breakdown. This can only mean increased tension and fighting in Israel. It looks like this entire region will melt down into all-out war. There is no end or peace process in sight.
Hillary Clinton's email scandal keeps getting worse every week. In the latest news, Russian hackers targeted Hillary's private email server that she used while she was Secretary of State. My question is how many other countries or hackers tried to break into this server? I find it hard to believe that anyone who wanted to break in would not stop until they got in. This was a secret for years to the American public, but it probably was not a secret to the hackers. It was also coming to light that more and more emails apparently contained classified information. The range of possible felonies for Mrs. Clinton and her staff are stunning. Obstruction of justice, perjury, and mishandling of classified information are just a few that come to mind.
Planned Parenthood keeps defending itself by saying the gruesome undercover videos making deal for baby parts is "deceptively edited." It denied it has done anything wrong in Congressional testimony this past week. The mainstream media keeps repeating this statement, which I think is a provable lie. Twelve of these undercover videos marked "full content" are available for viewing on the Center for Medical Progress YouTube channel. That is the group that did the investigation into Planned Parenthood's practices of selling baby body parts. I have also looked at the edited versions and do not see the so-called "deceptive editing." The media, such as USA Today, has a duty to vet these statements by Planned Parenthood. It should force Planned Parenthood to show the deception. What is on the videos that I saw, edited or not, are top medical doctors employed by Planned Parenthood haggling over the sale of baby body parts. They want to use a sanitized term like "tissue" when it is, in fact, parts such as the eyes, brains kidneys, hearts and lungs. Shame on USA Today for acting like a liberal rag and not vetting statements that appear patently untrue when you look at the videos. I called USA Today for a comment two days in a row and got no response.
Join Greg Hunter as he talks about these stories and more in the Weekly News Wrap-Up.