Natural Immunity is Best, Election Fraud, Inflation & Thanksgiving Message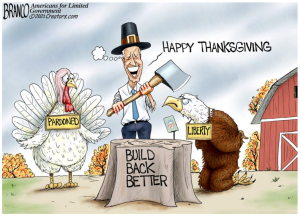 By Greg Hunter's USAWatchdog.com (WNW 505 11.25.21)  (This is a new re-recorded video.  The prior one was malfunctioning and was deleted.  It has been replaced with this new version.  This is glitch free.  Happy Thanksgiving!!!!)
There is a new Harvard study out, and it says people who recovered from CV19 have natural immunity that is "far stronger than vax protection. " Also, it says you have very little chance of being re-infected.  Why is the CDC and FDA constantly lying to us and telling us the vax is much better when, scientifically, it is clearly not!!
The mainstream media will not report on the massive election fraud and the battle to expose it.  That does not mean it is not being exposed.  In Wisconsin, criminal charges are coming down for election officials in one county, and, in Texas, big forensic audits are now funded by the state legislature.  The fraud is being exposed one county at a time, and it will continue.  The Dems' cheating will get much tougher to do in 2022.
Inflation is here to stay, and the Thanksgiving meal you are eating is the most expensive on record.  The cost is up 14% and this means inflation is here, and many think it's just getting started and going much higher.
Join Greg Hunter of USAWatchdog.com as he talks about these stories and more in the Weekly News Wrap-Up 11.25.21.
(To Donate to USAWatchdog.com Click Here)
After the Interview: 
Biotech analyst and former Pfizer employee Karen Kingston will be the guest for the Saturday Night Post.  She will tell us why money and corruption will keep the CV19 hoax and the bioweapon injection push going for a long time.  She also has good news for some who got vaxed and warns not to get a booster.  She will break it all down.