Real Inflation Rate 10% Squeezing Consumers – John Williams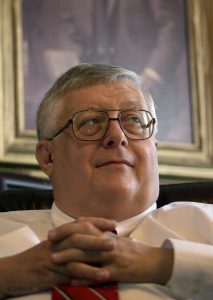 By Greg Hunter's USAWatchdog.com
Economist John Williams says if Hillary would have won the 2016 election, we would "most likely be in a full blown depression." The problems in the economy started long ago no matter who was elected. Williams says, "I would contend we were already in a recession at the end of the Obama Administration. That's one reason why Donald Trump got elected."
Williams says another negative for the economy is resistance on both sides of the isle of swamp creatures who do not want to pass legislation so Trump can bring home better jobs. Williams says, "Their motivation is not to provide those jobs." So, Congress is working against "We the People," and Williams goes on to say, "Yes . . . Yes, let me put it this way. Mr. Trump was something of an anti-establishment candidate, and the establishment had been in place on both sides of the isle for a long time. . . . Now, you have someone who is going to change the approach, one that is needed to get the system back on stabile footing. As a result, you have extraordinary turmoil in the press and a lot of opposition in Congress on both sides of the isle. He also has some support, and that's where this next mid-term election is going to be interesting. My bet is the same people that voted for Mr. Trump for President are sensitive to the fact he has run into a lot of trouble here. If he had a slate of Congressional candidates that were looking at the same thing (as Trump), this whole thing might have gotten off to a little faster footing. There is going to be more people running for Congress this time that are aware of what needs to be done. I think you are going to have some surprises that will help the President."
Williams sees a declining economy and says, "This is what I see happening. As the economy turns down, that's a negative for the dollar. Most importantly here, if the Fed backs off its tightening and moves back towards quantitative easing, and their minutes allow for it . . . they're going to do that. Right now, the dollar is being supported by expectations of a higher interest rate. As the fed moves back towards quantitative easing, you are very likely going to see a massive sell-off in the dollar. The massive sell-off in the dollar becomes very inflationary. This is a big problem right now for the Fed."
Williams says everyone should hold a core position of physical gold and silver because they will work well as financial protection from a dollar sell-off and inflation.
Join Greg Hunter as he goes One-on-One with economist John Williams, founder of ShadowStats.com.
(To Donate to USAWatchdog.com Click Here)
After the Interview:
There is always free and current data on the ShadowStats.com home page. For new and improved ShadowStats.com reports, click here to subscribe.