State of Inflation, NYT Propaganda Prepare for Crash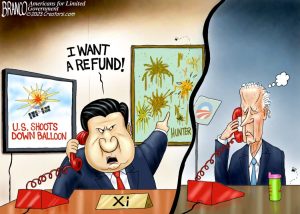 By Greg Hunter's USAWatchdog.com (WNW 568 2.10.23)
Vice President Biden gave the annual State of the Union address, and it might as well have been called the State of Inflation address. The ideas presented by Biden spell big inflation and bigger debts. This is not to mention the fact of how out of touch the government seems to be with China, nuclear war with Russia and an ongoing CV19 vax genocide. Let's pretend everything is great, and the Biden Administration is totally in control—NOT.
The Lying Legacy Media (LLM) has officially turned into a propaganda arm of the New World Order Freedom Hating Democrats. For proof, look no further than the propaganda piece attacking alternative media as spreaders of "misinformation." This from the organization that told us the Huge lie that President Trump was a Russian asset, and they did this for years!! Same with the incriminating Hunter Biden laptop that the New York Times said was Russian disinformation—Yet, another huge lie in a sea of lies and propaganda. The NYT and the rest of the LLM will never recover from the "safe and effective" claims of the CV19 bioweapon/vax that was pushed day and night 24/7 and is still being pushed. Dr. Paul Craig Roberts has some important news on the CV19 vax too.
The economy is tanking, and the Fed is going to continue to raise interest rates for now. Companies are laying people off by the thousands, and the Fed is perplexed over the Saudis moving away from the U.S. dollar in oil trade. The dollar is not going to fall all at once from the world reserve currency perch, but the decline has started. Can the Fed hold up the value of the dollar with 2% interest rates? Of course, the answer is NO.
Join Greg Hunter of USAWatchdog.com for these stories and more in the Weekly News Wrap-Up for 2.10.23.
(To Donate to USAWatchdog.com Click Here)
(Tech Note: If you do not see the video, know it is there. Unplug your modem and plug it back in after 30 sec.  This will clear codes that may be blocking you from seeing it.  In addition, try different browsers.  Also, turn off all ad blockers if you have them. All the above is a way to censor people like USAWatchdog.com.)
After the Wrap-Up
Book author and financial analyst John Rubino will be the guest for the Saturday Night Post.
Rubino sees dark things coming for the economy, including a "death spiral." He will explain on Saturday.