Traitors Going to Jail, China Trade War, Economic Update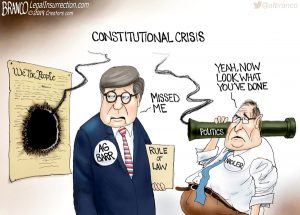 By Greg Hunter's USAWatchdog.com (WNW 384 5.17.19)
 Many think that nobody is going to jail for the Trump Russia collusion hoax that the FBI, DOJ and CIA tried to pull off.  Attorney General William Bar has just assigned a U.S. Attorney to look into the Russia scam that was made up to paint the President a spy.  People are going to be prosecuted and jailed for this treason.  
The China trade war is heating up and does not look like it will be resolved anytime soon.  China is calling for a boycott of U.S. products and claims to have more than $3 trillion to fight this dispute.  Trump is asking for a fair trade deal, but China wants the lopsided deal it has now. 
The economy is a mixed bag of good and bad information.  If you're following Deutsche Bank stock, things are looking terrible for one of the world's biggest most troubled banks. 
Join Greg Hunter as he talks about these stories and more in the Weekly News Wrap-Up. 
(To Donate to USAWatchdog.com click here.) 
Greg Hunter has the Early Sunday Release and a road map for what is coming for the next 30 days.