Trump Election Plan, Massive Voter Fraud, MSM Propaganda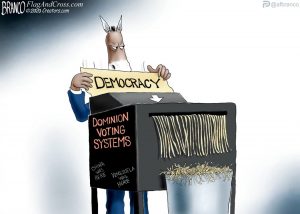 By Greg Hunter's USAWatchdog.com (WNW458 11.20.2020)
The President's election legal team put on a 90 minute press conference on Thursday that laid out their plan to overturn the election by exposing "massive voter fraud."  The President's point man on the effort, Rudy Giuliani, says he can "overturn the election in Georgia, Michigan, Pennsylvania, Wisconsin, Nevada and Arizona with more than double the votes needed."
Sidney Powell, another top former federal prosecutor on the President's team, says Dominion voter machines were also used in electronic voter fraud on a nationwide scale.  Powell said the Dominion voting system was used, and it was imported from Venezuela and owned by people who are friends of the communist government.  Powell also charged, "There was massive money influence of communist Venezuela and China" in effort to get a Biden win.
Meanwhile, the lying propaganda media is continuing its psyop and disinformation campaign.  It claims, without proof, that President Trump's "voter fraud claims are baseless" and "voter fraud claims are thoroughly discredited" when, in fact, they are nowhere near discredited.
Join Greg Hunter of USAWatchdog.com as he talks about this hugely important story that will guide the future of America and liberty.
(To Donate to USAWatchdog.com Click Here)
After the Interview: 
Economist John Williams of ShadowStats.com will be the guest for the Saturday Night Post.  He will talk about the state of the economy no matter who wins the 2020 Election.