Trump Rally Peaking Now – Gerald Celente
By Greg Hunter's USAWatchdog.com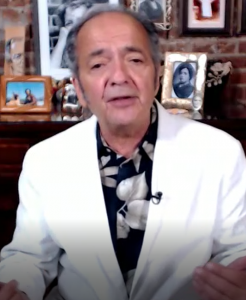 Renowned trends researcher Gerald Celente saw early on that Donald Trump would be good for America and the economy, but everybody knows the so-called "Trump rally" cannot go on forever. Celente explains, "We were the first magazine to call the 'Trump rally' two or three weeks after he got elected. We are the first ones to call the 'Trump rally' ending. Now, we are only a few points from the (stock market) high, but we see it peaking. It is the interest rates that are the issue and the overvalued and overleveraged stock market."
So, the stock market might be heading for a crash according to Celente, but he says there is little for the little guy to fear. Celente contends, "It won't be the kind of crash, and it won't be the kind of decline that hurts society the way it did back in the dot-com days in 2000 . . . and it will not be the equivalent to the 2008 panic because the average consumer is not in it. You have a different atmosphere now. . . . You have about 10% (of the investors) that own 90% of the stocks. All the rest of the stocks owned by the rest of the people averages around $15,000 (per person). . . . The 10% (of the investors) that own 90% of the stocks own an average of around $350,000 to $360,000. So, it's not going to ripple through the nation like the other market crashes."
Celente thinks even if the market does not crash, it will keep rolling along but at a slower pace. There are two big things, according to Celente, that could cause big problems. Celente says, "We definitely see a slowdown. Absent two major issues, we don't see a crash. Issue number one: rapidly rising interest rates. Issue number two: rising oil prices. Which ties into issue number three and that is war in the Middle East. If oil prices go into the $80 to $100 per barrel range, you can kiss the markets goodbye."
One positive wild card Celente predicts concerns Afghanistan. Celente says, "We think there is a wild card that is going to be played, and you all are the first to hear it. That is Trump is really going to give a boost to the midterms because we believe he's going to be ending the Afghan war. There are signs of peace talks going on already. It's a 17 year war. In the 2016 campaign, Trump wanted to end it then, and he stated that very clearly. . . . We believe there is going to be massive pull backs of troops, not only from Afghanistan, but from South Korea, Okinawa and from around the world. Trump promised infrastructure rebuilding, which Trump has not done. We believe he is going to take a page out of our action for 'Occupy Peace'. . . . Trump is going to put our troops to work rebuilding our infrastructure."
Join Greg Hunter as he goes One-on-One with the Publisher of the Trends Journal, Gerald Celente.
(This post talks about the peaking Trump rally, possible market crash, and possible rising oil prices and interest rates.)
(To Donate to USAWatchdog.com Click Here)
After the Interview: 
There is some free information and analysis at TrendsResearch.com. There is much more for subscribers. To subscribe to "The Trends Journal," click here.