CNN and MSM Fake News, War Drums Beat in Europe, Israel Under Global Attack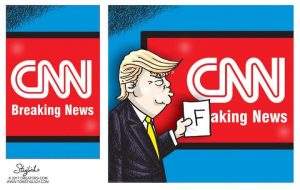 By Greg Hunter's USAWatchdog.com (WNW 267 1.13.17)
The USA Today publishes a front page story on Trump's press conference, but passes off opinion as unbiased reporting. CNN reports on intelligence briefing to Donald Trump but does not say material in the briefing is totally bogus and fake with major factual and misleading errors. Mainstream media (MSM) wants the public to think it is fair and unbiased when, in fact, it is propaganda.  These are the kinds of things I call "Fake News," and the MSM has been guilty of this.  Now, it is doubling down on being biased and unfair to destroy the reputation of Trump before he gets into office.  Journalist Glenn Greenwald's recent headline explains it all as he writes 'The 'Deep State' goes to war with President-elect, using unverified claims, as Democrats cheer."
Meanwhile, the U.S. has sent 2,500 tanks, trucks and military vehicles into Eastern Europe to counter the possibility of Russian aggression. The Russians have not said they would attack, but that is not stopping the biggest troop transfer since the cold war.
In other news, top former Israeli diplomats say the upcoming Paris conference could lead to more UN Security Council action against Israel. There is already a global movement called BDS which stands for Boycott, Divestment and Sanctions, and this upcoming meeting will likely strengthen the BDS movement and weaken the Jewish State.
Join Greg Hunter as he talks about these stories and more in the Weekly News Wrap-Up.
There is much more in the video presentation.)
After the Wrap-Up:
Finacial and market expert Charles Nenner will be featured as the "Early Sunday Release."
(If you would like to help USAWatchdog.com please go to our donations page.)