2018 Midterm Election Coverage from USAWatchdog.com & Greg Hunter
On November 7, 2018
In Politics
96 Comments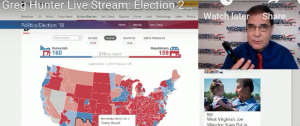 By Greg Hunter's USAWatchdog.com
I tried something different, and for the very first time, I live streamed my version of election coverage of the 2018 Midterms.  It was about 5 hours long.  During the broadcast, I also interviewed Dave Janda from Operation Freedom, Bo Polny from Gold2020Forecast.com, Gregory Mannarino from TradersChoice.net and Nick Ruiz from Evolution Consulting.The election is over, but the interviews with Janda, Mannarino, Polny and Ruiz offer some insight into politics, financial markets, precious metals, data mining and political and sociological predictions.  I hope you enjoy the coverage and the interviews.
Join Greg Hunter as he live streams the 2018 Midterm elections.
(To Donate to USAWatchdog.com Click Here)
Thank you for supporting USAWatchdog.com.