Biden Tanking, Monsters Vax Kids, 2022 Warning
On October 29, 2021
In Media
288 Comments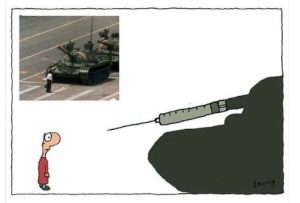 By Greg Hunter's USAWatchdog.com (WNW 501 10.29.21)
It's getting so bad that the Deep State globalists are firing anyone who stands up to these experimental vax mandates.  You cannot make fun of it either as well-known cartoonist Michael Leunig has been fired for a take-off of China's infamous unknown "Tank Man" standing up to the CCP in 1989 Tiananmen Square in Beijing.  The cartoon was never published, but I feel compelled to post in on USAW.  The Biden Administration is not as firmly in control as the CCP was back in 1989.  Biden and his Administration are tanking on many levels, and that's why even the phony pols are showing Biden has lost major ground among the public, especially Democrats.  It's only going to get worse for Biden and "We the People."
The FDA is full of monsters because only a monster would vaccinate children as young as 5 years old with a totally unproven, unnecessary and experimental injection.  The FDA says it's one third the dose, but the children are one third the size of an adult.  There have been thousands of death and hundreds of thousands of debilitating injuries reported, and that only represents less than one percent of the problems.  Parents, take your children and run as fast as you can.  This is not science.  It is evil quackery and totally reckless disregard for the life of children.  There is also more news that the so called vaccinations for adults are not working, and the majority of the deaths are now "fully vaccinated."   There is no stopping the bad news at this point, and it will get worse—much worse.
Don't let the record high stock market fool you.  The economy is tanking, and GDP estimates have been slashed in more than half from just a few months ago.  The trajectory is not good.  By middle of next year or earlier, the Biden Administration will have totally tanked just like the economy.  Watch Evergrande because it reportedly did NOT make an interest payment as reported.  This implosion could take the economy down hard long before the end of 2021.  Evergrande is a Chinese property company five times larger than Lehman Brothers.
Join Greg Hunter of USAWatchdog.com as he talks about these stories and more in the Weekly News Wrap-Up 10.29.21.
(To Donate to USAWatchdog.com Click Here) 
After the Interview:
Catherin Austin Fitts (CAF), publisher of "The Solari Report," will be the guest for the Saturday Night Post.  Her latest cover has a simple message:  "Take Action 2021."  CAF will tell us all how and why.  She will also give analysis on what she thinks is going on now with the Biden Administration vs "We the People"!!